4 U.S. Convention Center Projects That Are On-Trend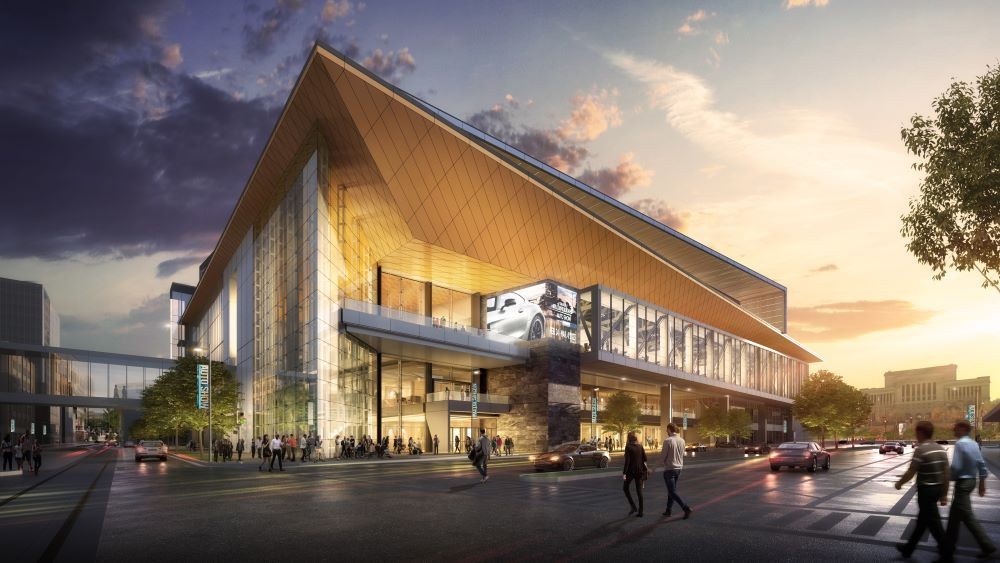 Rendering of Wisconsin Center
Convention center expansions and renovations are always great laboratories to identify and ultimately test the latest concepts in meeting space design, as they contain spaces large and small and focus on in-person collaboration, attendee flow and sustainability.
Following are four major convention center projects either in motion or recently opened that provide great examples of cutting-edge large-venue meeting design.
[Related: A Convention Center Designer on Prioritizing the 'In-Between' Spaces]
Seattle: Summit
The much-anticipated—a decade's worth of waiting, with an estimated 300 events turned away between 2012 and 2015 because of the unavailability of space—January opening of Seattle Convention Center's $2 billion Summit building unveiled what is dubbed as North America's first high-rise convention center.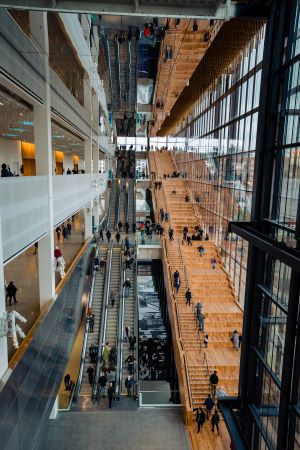 "The Seattle Convention Center Summit building demonstrates a holistic urban approach for how a convention center contributes to making a high-performance urban core serving the entire community," said Leonardo da Costa, principal of LMN Architects, which designed the building. "The project serves as an economic driver, attracting visitors from the local community and beyond, enriching the neighborhood and catalyzing additional urban development. More like urban infrastructure than a single building, the venue is designed to be a contemporary emblem for the future of urban meetings and events, contemplating how people interact in today's world and creating a space where people can experience the culture of Seattle's distinctive urban core."
With more than a half-million square feet of meeting and exhibit space (573,770, to be exact, bringing the entire convention center's offering to 1.5 million square feet), Summit shows what can be done in a compact urban core that has always needed more convention space but didn't seem to have room to expand.
"For me, even as a seasoned event professional, it was a complete wow," said John Chen, CEO of Seattle-based Engaging Virtual Meetings, who joined other area event profs for a preview tour of the facility. "The fifth-floor ballroom is like the new place to be. They had a full-blown stage all the way across, and the window is so big that you can still see Capitol Hill. And there's a room on the third floor that is all glass. They had it set up for a dinner and they hit the lights and it was an all-city-lit and candle-lit dinner—it was spectacular."
Chen also noted Summit's innovative double-set interior staircase, which is so wide that it also features an escalator and seating areas on the sides.
"We said one of the cool things would be to set a lunch table with linens there overlooking the city," he offered. "I could even see a speaker positioned at the bottom of it, like an amphitheater, viewable from multiple floors."
[Related: Seattle Convention Center to Officially Open Summit Jan. 25]
Other highlights for Chen included the high number of DEI-inclusive contractors employed in the construction and the expansive, pillarless second-floor space.
"That means that you have 100% great sightlines from everywhere—that's amazing," Chen offered.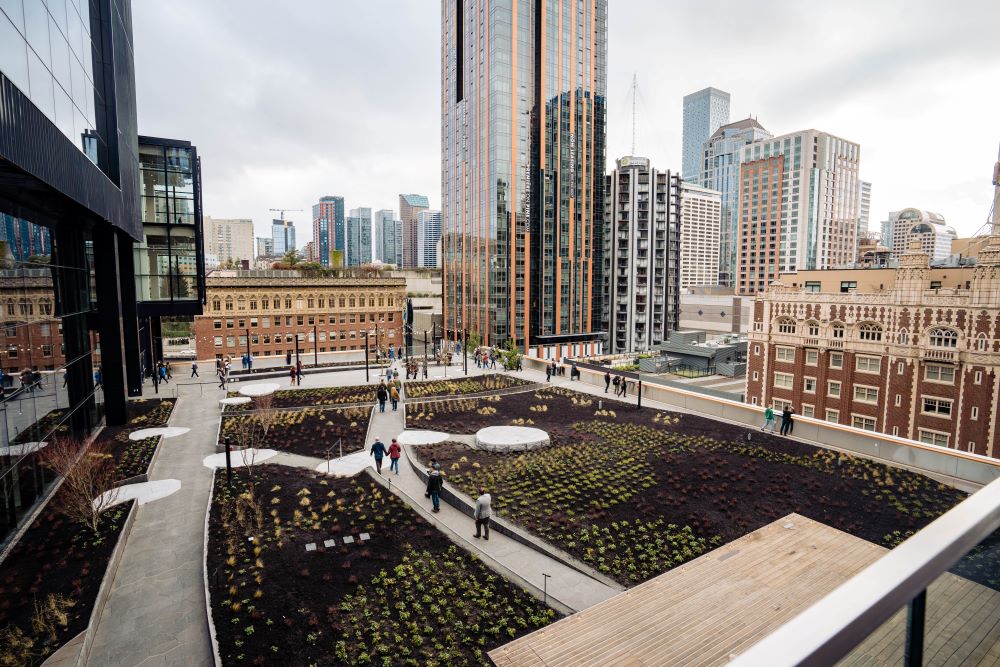 Milwaukee: Wisconsin Center Expansion
With an anticipated early2024 completion with first event scheduled for May 2024, the $456 million expansion of the Wisconsin Center will double the convention center's space to 1.3 million square feet.
The project will also increase the size of the exposition hall to 300,000 square feet of contiguous space, add 24 new meeting rooms, six loading docks, an executive kitchen and a fourth-floor ballroom that can handle up to 2,000 for a seated dinner.
The Center is also particularly proud about its commitment to DEI, citing an economic inclusion plan that committed 25% of construction work to minority-owned businesses, 5% to women-owned businesses and 1% to disabled veteran-owned businesses.
According to Sarah Maio, VP of marketing and communications for the Wisconsin Center District, all aspects of the project flow through three core filters: being bold, proud and experience-obsessed.
"Visually, the physical structure is being built with tons of glass, loads of natural light, multiple outdoor terraces and amenities that will give today's event attendees an opportunity to achieve the ultimate goal of participating in their conference and their event, but also a lot of moments to decompress, to check in with their office, to get some fresh air and be exposed to the natural light of the day," Maio offered.
Other trend sightings include dedicated quiet room space, dedicated nursing mothers room space, space for an adult changing station, and, like Seattle's Summit building, a collaborative stairs area where attendees can also sit down and access charging stations. 
"You can just sit down and relax and plug in, enjoy the water feature, take in some light," she said. "We're really working hard to create small moments throughout the building that make it feel like there is opportunity everywhere to focus on taking a break, getting yourself back together and doing what it is you need to do so that when you are in your session and collaborating with your peers and colleagues and enjoying the convention, you can really focus in on that and get everything out of it that you want."
The facility will also have dedicated gender-neutral restrooms as part of every restroom bank.
[Related: Colorful and Creative Spaces That Inspire in Wisconsin]
"There'll be women's rooms, men's rooms and gender-neutral restrooms," Maio said. "Whereas certainly when a client comes in and wishes for all the restrooms to be converted to either male or female, okay, great, but the standard is for us to always have men's rooms, women's rooms and gender-neutral restrooms."
Maio said the facility is pursuing LEED Silver certification, with sustainability features such as a green, solar roof, food composting conducted by Levy Restaurants and a stormwater trap that will keep any rain deluge from overloading the city's sewer system.
The highest-profile event following the unveiling will be the 2024 Republican National Convention, set for July 15-18.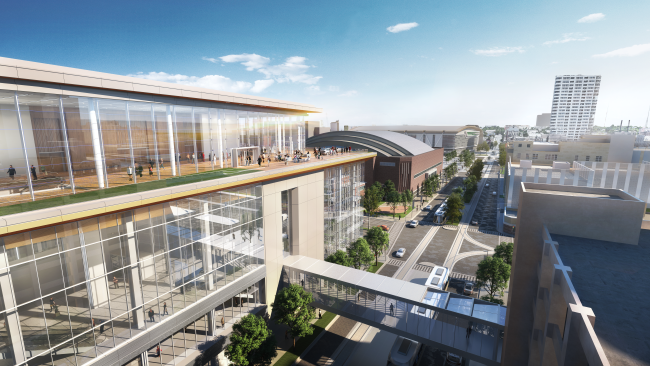 Greater Fort Lauderdale: Broward County Convention Center Expansion
Fort Lauderdale's Broward County Convention Center is in the midst of a $1.3 billion expansion that is set for completion in late-fall 2025, with Phase 1 opened in January 2022 and welcoming the Fort Lauderdale International Boat Show to a sparkling-new 350,000-square-foot exhibit hall.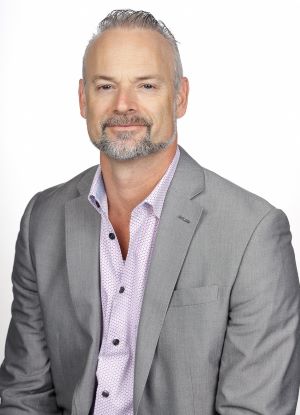 "This will make us more competitive with the likes of Austin, Phoenix and Charlotte," said Mike Pouey, SVP, group and convention sales, Visit Lauderdale. "The whole thing is on the water and it's a very different, unique setting and adjacent to the cruise port. It works great for meeting planners because once the convention is over, folks can jump right on a cruise and take a three- or four-day cruise down to the Caribbean and the Bahamas."
A huge feature of the project is an expansive outdoor waterfront plaza constructed with event space firmly in mind.
"It's a huge, six-acre tropical plaza, so you're going to have these views of the Intracoastal Waterway, so it will be great for events," Pouey said. "We'll be able to host massive receptions, and this facility is also only a mile from the beach, so there's accessibility to the hotels by the beach, too."
Pouey said the facility will offer both an East and a West building—providing the ability to host two major groups simultaneously—with massive windows defining the East segment. Each building will have dedicated kitchens.
[Related: Convention Centers and Surrounding Districts Bring Distinct Flavor to Fort Lauderdale and Miami Meetings]
Soon after the final phase is completed, a four-diamond, 801-room Omni headquarters will open in 2026, with 520,000 square feet of meeting space.
A major trend that will quite literally be on display at the convention center will be the prodigious use of digital signage and ample Wi-Fi connection.
"It's going to have over 80 digital signage outlets throughout building—great for branding—with two giant megatrons," Pouey said. "There will also be 20,000-device simultaneous Wi-Fi, three offices and mobile food concessions."
One very unique feature of the convention center will be the ability of attendees to use water taxis to get around.
"There's a whole fleet of them," Pouey said. "The water taxis will connect groups to hundreds of restaurants and shops, and groups can charter the water taxis."
The whole building will be LEED certified and feature electric vehicle charging stations, solar panels, high-efficiency LED lighting and "water bottle refilling stations everywhere," Pouey offered.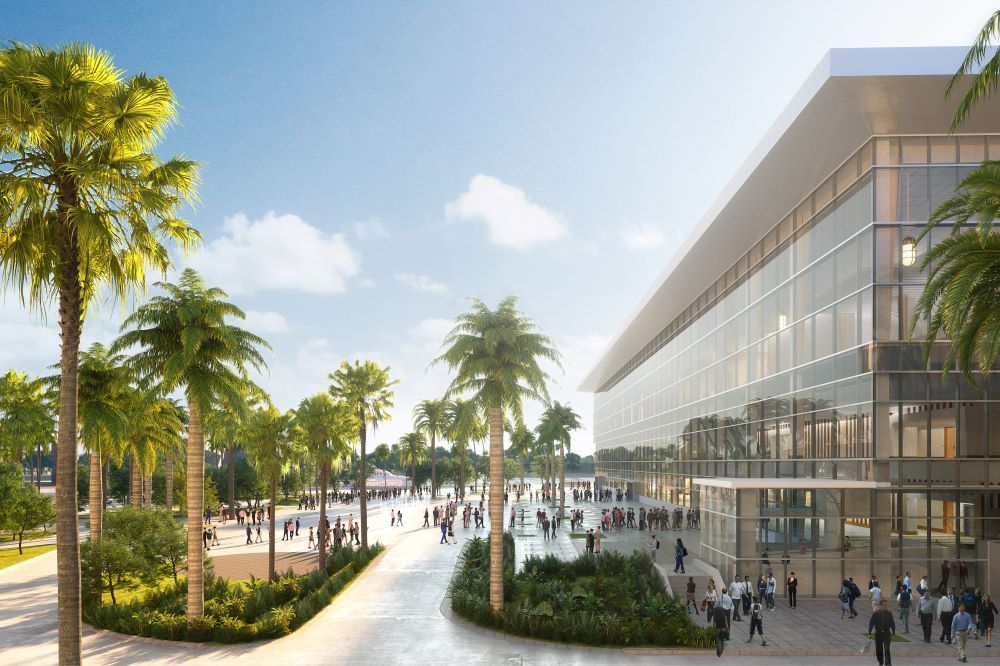 Savannah (Georgia) Convention Center Expansion
Fresh from a topping-off ceremony shortly before publication time, Savannah is gearing up to welcome a $276 million expansion project that will double the size of the Savannah Convention Center's exhibit hall.
Scheduled for a first-quarter 2024 opening, the facility already has 34 confirmed bookings, according to Visit Savannah. To complement the existing 403 adjacent hotel rooms provided by The Westin Savannah Harbor Golf Resort and Spa, the brand of a new headquarters hotel developed is expected to be announced soon.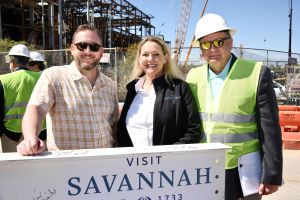 Besides a 25,000-square-foot ballroom, the expansion will add a 40,000-square-foot offering, as well as 900 parking spaces, a new 58-foot-wide hangar door and a new facility entrance with an all-glass facade.
David Basler, former editor of MPI's The Meeting Professional and now senior vice president membership and marketing for the National Association of RV Parks and Campgrounds, was onsite for the topping off ceremony to do a site tour.
"I think the expansion is going to be a game changer for Savannah," Basler said. "Our event, the Outdoor Hospitality Conference & Expo, was in Savannah in 2011, but for the past few years we had outgrown the convention center. This expansion brings Savannah back into play for us. The features of the new exhibit space and the new ballroom will be game changers for larger events coming to town.
[Related: Sultry Savannah Makes History Come Alive at Meetings Today LIVE! South]
"One of the features that stood out to me was the exhibit hall door that is big enough to bring in an airplane," he continued. "Not something you see in most convention centers and something that will undoubtedly bring them the big shows. They are also building two new hotels—bringing more options into the picture on the convention center side of the river."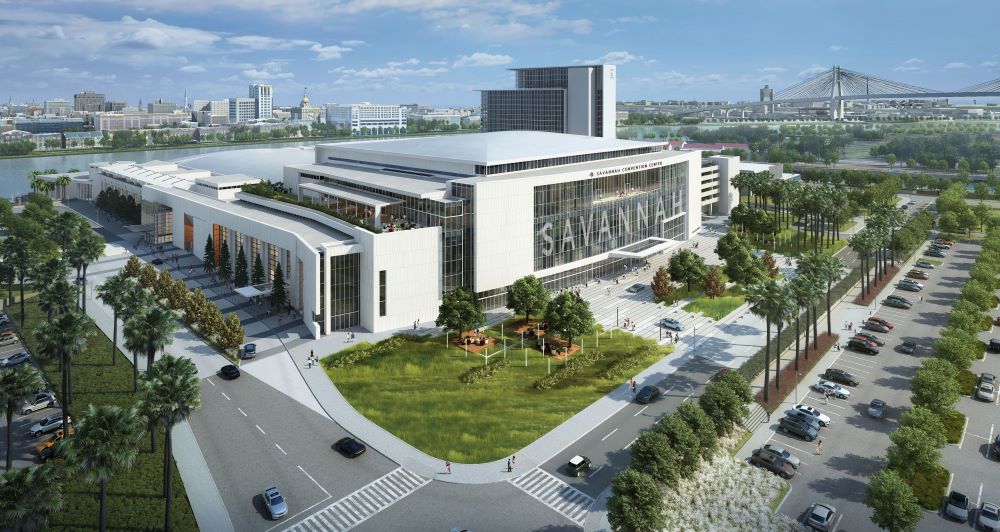 Read next: Savannah Combines Historic With Hip for Meetings and Events