5 Creative Breakouts and Teambuilding Opportunities in Plano, Texas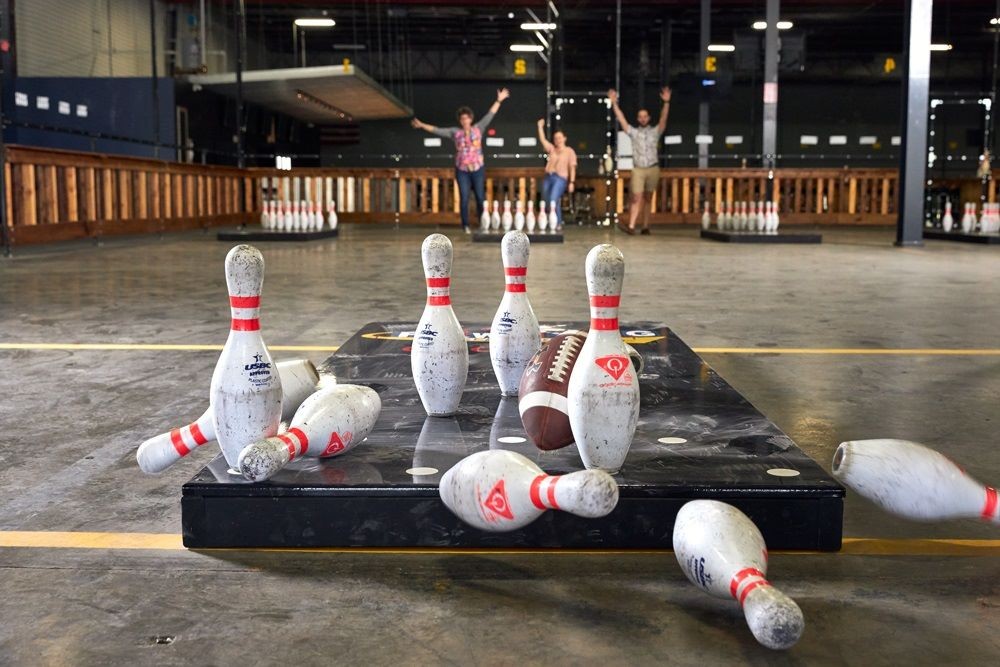 Located close enough to the Dallas-Fort Worth Metroplex to be convenient and accessible yet far enough away to feel like a unique destination, Plano, Texas, is one of those destinations that begs groups to get out of it's the hotels and boardrooms and experience the hidden gems that make the city special. 
With Dallas in its backyard offering all the big-city amenities your group may need, Plano delivers on all things local and invites visitors to experience one-of-a-kind Texas culture.
Following are five offsite venues for creative breakouts and teambuilding opportunities that put attendees in the heart of what Plano has to offer. 
[Related: Saddle Up for These 5 Unique Offsite Options in Plano, Texas]
Fowling Warehouse DFW
Called "The original football bowling game," Fowling started as a one-lane mashup of two of America's favorite pastimes—football and bowling—while founder Chris Hutt was tailgating at the 2001 Indy 500, and the concept is quickly taking over the country.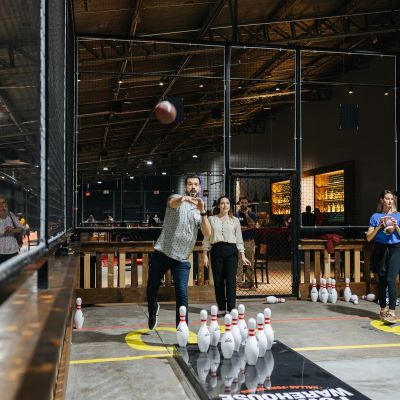 The game merges the two sports and tasks players with throwing a football at 10 bowling pins in an attempt to knock them all down: "BONK™. Drink. Repeat." Players follow short and simple rules that explain Fowling Fair Ups, Overtime, Sudden Deaths and more to spark friendly competition.
Fowling Warehouse DFW is the first of its kind in the South and one of five across the U.S. Upon opening, it became the company's largest venue and the first to offer full food and beverage options. The 71,000-plus-square-foot "open play" warehouse can accommodate up to 1,700 people and features 40 Fowling Lanes and a 45-foot bar, as well as multiple tables and bar stools.
Smaller meetings and events groups looking for a fun breakout can book the 11,000-square-foot VIP Lounge offering six private Fowling lanes, a private 30-foot bar and luminescent lounge seating areas.
Crayola Experience Plano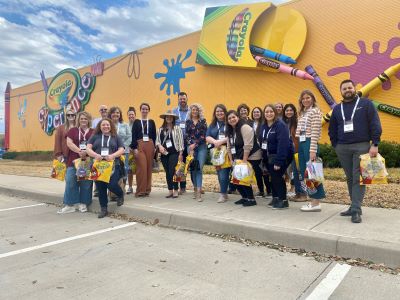 Offering 60,000 square feet of attractions, Crayola Experience Plano is "where the magic of Crayola comes to life." The colorful destination features 26 creative and interactive attractions that invite guests to get hands-on with experiences such as starring in their own coloring page, naming and wrapping their own Crayola crayon, embarking on a 4D coloring adventure and learning how crayons are made in a live manufacturing show. 
Groups looking for a unique and colorful collaborative experience at Crayola Experience Plano can book private events like corporate outings, fundraising events and teambuilding activities like Crayola After Dark, "how adults craft and play." Rates vary and bookings can range from private rooms to full facility rentals.
[Related: Plano Is Putting on a Show for Groups in the Metroplex]
Go Ape
Encouraging and inspiring visitors to "live life adventurously," Go Ape started in the mid-2000s out of a vision to give back to local communities through outdoor adventure and environmental stewardship. Today, at every destination offering a Go Ape Zipline & Adventure Park, the company is actively giving money back through a revenue share via partnerships with public parks across the country.
The Go Ape Zipline in Plano is one of the company's bigger parks and is set within 800 acres at Oak Point Park. The company's original Treetop Adventure takes visitors into a woodland canopy of trees and features 28-foot-high tree-to-tree crossings, ziplines measuring more than 400-feet long that cross Rowlett Creek and 40 unique obstacles like Tarzan swings in a high-ropes adventure course that takes between two and three hours to complete.
For groups looking to work on collaboration and teamwork, Go Ape's unique teambuilding activities create a sense of shared accomplishment and challenge teams to overcome obstacles and conquer fears together while completing courses and ground-based activities.
The Treetop Adventure takes between one and three hours to complete and tasks teams with navigating suspended obstacles and ziplining, and groups can work ground-based games like axe throwing, Forest EscAPE and Gorilla Golf into their teambuilding agendas for $15 per person. Groups can customize their experiences to fit budgets and time frames at www.goape.com. 
PINSTACK
Offering a unique dining and entertainment destination operated by Entertainment Properties Group, PINSTACK features one-of-a-kind, 45,000-plus-square-foot venues with full-service restaurants, full bars and private dining areas in Dallas-Fort Worth, Austin and San Antonio. PINSTACK's state-of-the-art bowling lanes offer lane-side food and beverage service, and its facilities are equipped with more than just dining and bowling.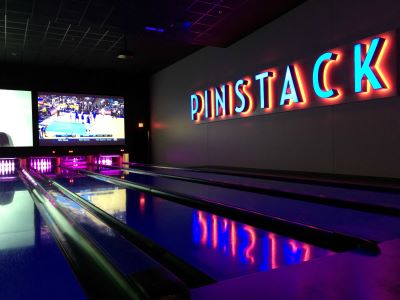 Plano's PINSTACK location also features two-level laser tag, an LED rock climbing wall, bumper cars and a high-ropes course suspended 20 feet above 100 of the newest video games and simulator technology.
Groups looking to take advantage of the various offerings at PINSTACK Plano can book:
Lanes Only Events, for casual bowling and lane-side beverages and platters
Patio Parties, offering space for up to 60 guests
VIP Private Suite, an exclusive space with eight state-of-the-art bowling lanes and audiovisual technology
Teambuilding activities, from Family Feud-style games to The Amazing Race, all professionally facilitated
Additional teambuilding opportunities include a Charity Bike Build in which groups give back to the community by building bikes for the area children; Chili Cookoff, where teams make a special pot of chili and craft a marketing campaign to sell their special recipe; and a Minute to Win It game with unique challenges to complete in under 60 seconds. 
[Related: Why Plano, Texas, Is a Good Bet for a Variety of Groups]
Sweet Home Bath & Body Workshops
Sweet Home Bath & Body started in 2013 when founder and owner Tina Ames began reading more about the "not-so-safe ingredients on personal skincare labels." Ames decided she wanted and deserved to be using something better and healthier for her sensitive skin and learned about the benefits of natural soap. That's when she decided she would try to make her own skincare products from scratch, and out of her efforts came Sweet Home Bath & Body.
Now, Ames sells her skincare products made with ethically sourced ingredients and eco-friendly packaging in the Plano area and teaches others how to do the same through customized corporate breakout sessions in which she guides groups through hands-on activities like candle-, soap- and bath bomb-making classes. Groups can organize onsite experiences with Ames by contacting her through her website at www.sweethomebath.com. 
Connect
Visit Plano
(800) 817-5266
*This article was created in partnership with Visit Plano.
Read this next: Immerse Your Meeting Attendees in 'West of Zen' Culture at Renaissance Dallas at Plano Legacy West Hotel