Multifaceted Myrtle Beach Shines at Meetings Today LIVE!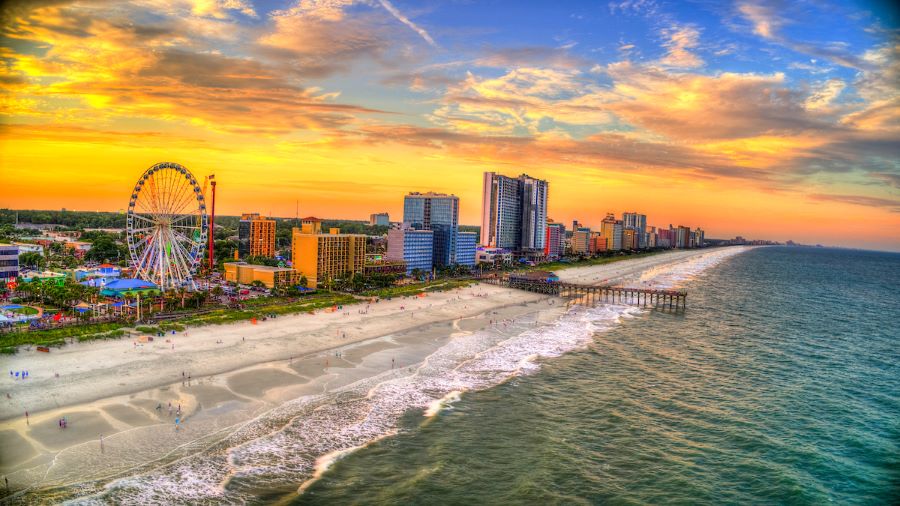 Myrtle Beach Boardwalk and Promenade. Credit: Visit Myrtle Beach.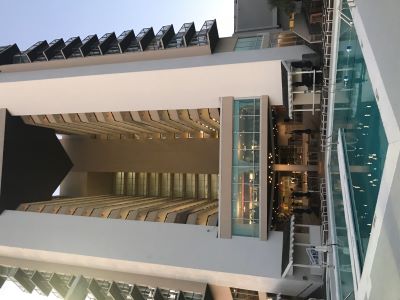 While 60 miles of beaches and an action-packed Boardwalk are known quantities for meetings visiting Myrtle Beach, South Carolina, attendees at Meetings Today LIVE! South discovered there's much more to explore in this multifaceted destination.
The October 17-20 event was hosted by the Hilton Myrtle Beach Resort. The beachfront Hilton was an ideal location for an opening reception that overlooked the Atlantic, as well as one-on-one appointments on the property's second-floor meeting space and educational sessions and breakfasts that boasted stunning sunrises over the Atlantic from the property's 16th floor meeting space.
Myrtle Beach has been on the move during the pandemic, welcoming the arrival of craft breweries that are making the destination a draw for lovers of the beer scene and all it entails, from live pub music to fun and games in a "backyard" setting.
Karen Riordan, president and CEO of Visit Myrtle Beach, welcomed attendees at the opening reception, alerting them to some other significant updates in the destination, such as a $20 million renovation at the Hilton Myrtle Beach Resort and a $30 million renovation at Embassy Suites by Hilton Myrtle Beach Resort.
[Related: Myrtle Beach Weathered the Pandemic Well, and Emerges With New Options]
Educational Sessions
Meetings Today LIVE! events always place a premium on CEU-accredited education, and the Myrtle Beach program certainly exceeded that high standard, with MPI Academy Vice President Jessie States delivering a provocative "7 Lies You've Heard About Planning Hybrid Experiences" session that challenged both planners and suppliers to reexamine their notions of how virtual and in-person events will intermingle in the future.
The MPI session was sponsored by Discover Puerto Rico, which recently unleashed some high-octane entertainment itself with the unveiling of San Juan's El Distrito T-Mobile entertainment complex, a five-acre, $185 million hospitality and entertainment complex that boasts one of the largest horizontal 4K screens in the Americas.
Just given the nature of the material he had to work with—not to mention his highly engaging speaker skills—the highlight of the educational component had to be Steve Jones' "Brand Like a Rock Star: Your Rock Star Comeback" session, sponsored by Experience Columbia SC. Using business-relevant examples and a blood-pumping soundtrack from the likes of Aerosmith, Bob Marley, AC/DC, Foo Fighters and Run DMC, Jones had attendees rocking out of the palm of his hand and clamoring for more booking info.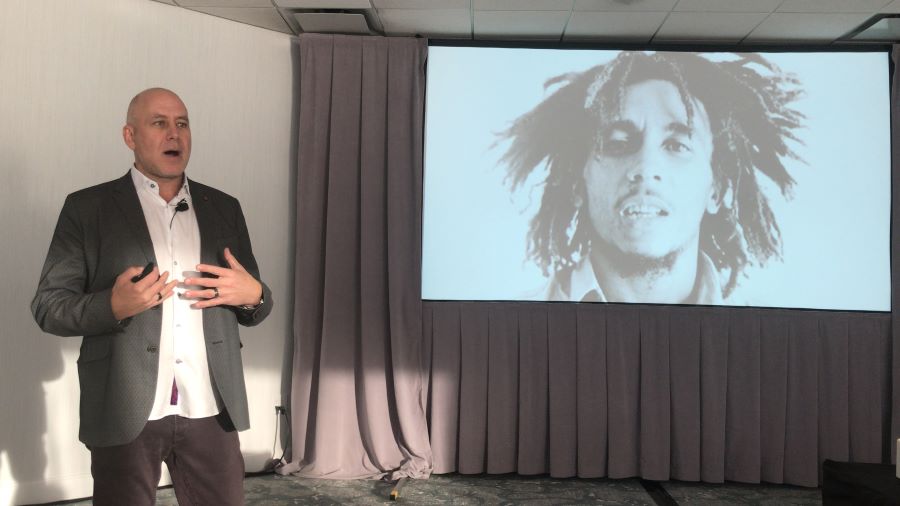 After delivering a tongue-firmly-in-cheek apology for his fellow Canadians, the lovingly maligned rock band Nickelback, Jones asked an interesting question for the audience to ponder: "Why do businesses have 'customers' while rock stars have 'fans?'" Turning customers into fans, it seems, should be the end objective for any enterprise.
[Related: Rock Star Comeback Stories That Will Amp Up Your Meetings]
Myrtle Beach Site Tours
Site tours are also a high priority at Meetings Today LIVE! events, as planners want to see for themselves the facilities they may consider for a meeting, including meeting space, outdoor venues and F&B capabilities.
Meetings Today LIVE! took tours at the following Myrtle Beach venues: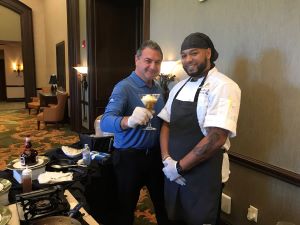 Hilton Myrtle Beach Resort: The host hotel, the 387-room oceanfront Hilton served as the site for an opening reception filled with ample food and drink. The property offers more than 56,000 square feet of event space, including a 14,400-square-foot ballroom and 24 meeting rooms. Located on the northern end of Myrtle Beach, the property boasts a sugary stretch of beach right in the middle of the high-end resort area of the destination.
Marina Inn at Grande Dunes: Conveniently located between the north and south sections of Myrtle Beach, this 200-room, AAA Four Diamond property is set in the 6,600-acre Grande Dunes Resort. A truly sumptuous lunch was served in rounds outside of the hotel's 5,100-square-foot Nautilus Ballroom in the ample 4,700-square-foot prefunction space, with a highlight being the fiery preparation of bananas Foster by the resort's impressive and attentive culinary staff.

Buffet at Wicked Tuna
 

DoubleTree Resort by Hilton Myrtle Beach Oceanfront: The location of the final lunch portion of the program, the 453-room DoubleTree served up an impressive feast to attendees. The oceanfront property sits on 27 acres at the south end of Ocean Boulevard, adjacent to Myrtle Beach State Park, and offers nearly 30,000 square feet of event space, including three 8,532-square-foot ballrooms, 22 meeting rooms and an 8,700-square-foot exhibit hall.

Marriott Myrtle Beach Resort & Spa at Grande Dunes: The final site tour visited this AAA Four Diamond Marriott located in Grande Dunes. The Marriott didn't disappoint when it came to its meeting space, demonstrating the meetings and events heft the world's largest hotel brand always brings to bear. The 405-room property, which offers more than 35,500 square feet of event space and 11 event rooms, is also located near the destination's main entertainment areas, Barefoot Landing and Myrtle Beach Boardwalk, where attendees took advantage of some free time earlier in the day to explore. A major highlight is the property's 14,000-square-foot spa, which has been named one of the top spas in the brand.
Offsite at Brookgreen Gardens
A breathtaking highlight of the program was a tour of the sprawling, 9,100-acre Brookgreen Gardens, home of the largest collection of American figurative sculpture in the world. The jaw-dropping collection of more than 2,000 works by more than 400 artists is set amidst Spanish-moss-draped live oaks on the expansive grounds, the result of an endearing later-in-life love story between railroad scion Archer Milton Huntington and wife Anna Hyatt Huntington, a renowned sculpture artist. 
The tour also included the Oaks Plantation Excursion, a cruise that details the colonial and antebellum rice plantation eras of the estate. Because of its unvarnished historic depiction of the horrors of slavery on the property, this portion of the program may be challenging for some attendees.
Dinners and Closing Reception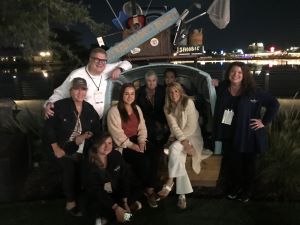 After days filled with one-on-one buyer-supplier meetings and site tours, attendees were keen to mingle at the evening events, including dinner and cocktails at Wicked Tuna, located on Murrells Inlet. This waterfront bar and restaurant serves up serene views of the inlet, where yachts and other watercraft mingle in the picturesque marshy environment. 
The last night definitely provided a crescendo, with the closing reception held at Crooked Hammock brewery and hosted by Visit Myrtle Beach. A night filled with live music—remember that!—and all manner of fun and games in the venue's Barefoot Landing waterfront "backyard," the planners and suppliers solidified their new status as friends as they hoisted the Hammock's brews and enjoyed a pleasant evening of professional camaraderie.
A Fond Farewell
Capping off the event, the final breakfast ended with a State of the Industry panel discussion featuring a third-party meeting planner attendee; Meeting's Today's Tyler Davidson; Melinda Shelley, property sales manager for Harrah's Cherokee Casino Resort; and Bob Harris, executive vice president of group sales for Visit Myrtle Beach. The consensus was that in-person events are positioned for a 2022 comeback following the Delta Variant wrench in the works that rained on the recovery parade earlier this year.
Thanks to the sponsors of Meetings Today LIVE! MidAmerica/South for their partnership on this event:  
Read Next: Meetings Today LIVE! Louisville Impresses with Rich History, Bourbon and Valuable Networking