The Latest Developments and Renovations in Key North Carolina Cities (2022)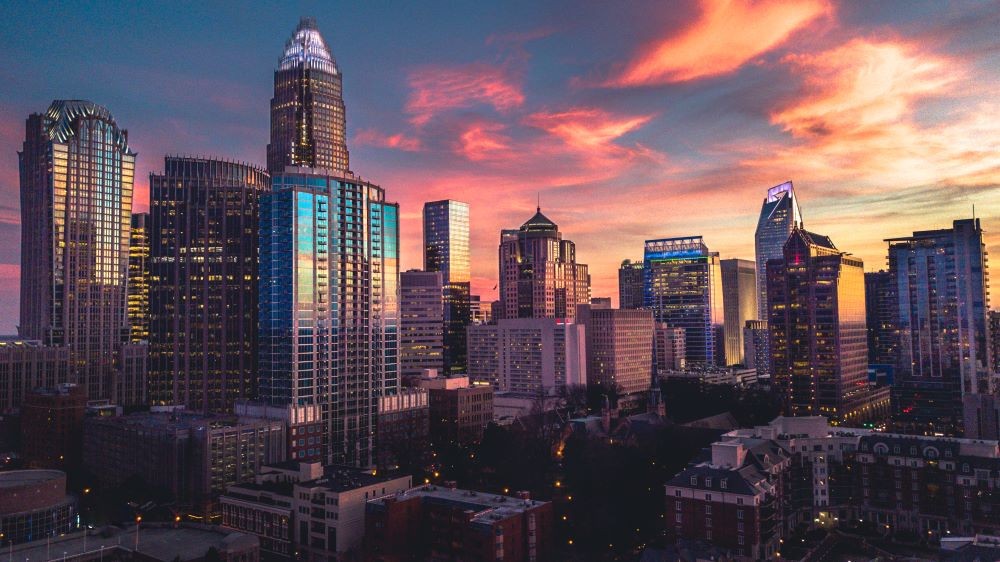 With everything from rolling mountains and white-sand beaches to urban cityscapes and historical sites, North Carolina is a state that offers it all. From the state capital of Raleigh and popular Charlotte destinations to the rapidly growing Asheville and peaceful atmosphere of Wilmington and The Beaches, North Carolina has something for everyone.
Since becoming "First in Flight," North Carolina has remained a frontrunner at staying on trend, and recent developments continue to draw visitors in. Check out what these popular Tar Heel State cities have in store for your next meeting or event.
Raleigh
As a modern Southern city with all the comforts of home, Raleigh is guaranteed to have something for everyone, and the state capital has seen recent developments this year that put even more opportunities for planners on the table. 
Originally opened in 1938, John Chavis Memorial Park and Community Center has been part of the Raleigh community for decades, but new features and additions following a complete renovation and reopening in 2021 brought entirely new experiences to the historic destination. Named after early 19th-century free Black preacher and teacher John Chavis, the 37-acre park now features a new two-story community center offering new meeting spaces, including a reception hall and multipurpose rooms.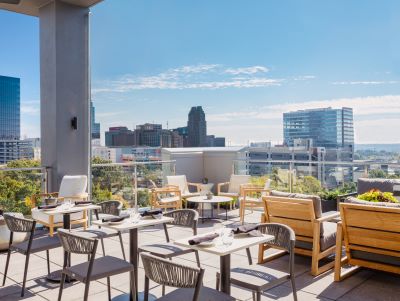 The park's carousel house—which houses one of the oldest-operating vintage carousels in the U.S., the Allan Herschell Carousel—has been reimagined, and guests can now enjoy a central plaza with an integrated water feature. 
Formerly known as Solas, a three-story event space in Raleigh was revamped and rebranded in 2021 into Botanical Lounge, Sage Room and Highgarden. On the building's second floor, Sage Room offers a flexible open event space, and planners can take advantage of the opportunity to host both pre- and post-event receptions on the upstairs Highgarden rooftop lounge or the first-floor Botanical Lounge, surrounded by live greenery and side patios. 
Raleigh's hotel scene has also seen growth through numerous hotel openings and renovations throughout the year, including:
The opening of AC Hotel Raleigh Downtown last September brought a thoughtful blend of European soul with a Southern perspective to the city's Glenwood South District. With the hotel came The Willard, a seventh-floor rooftop bar and outdoor terrace serving specialty cocktails, local craft beer and an elevated dining experience guests can enjoy alongside views of the downtown Raleigh skyline. 
Previously an independent hotel, The Casso, Raleigh, A Tribute Portfolio Hotel is the first of its kind in North Carolina. Conveniently located between the Glenwood South and Warehouse districts, The Casso's location places it within walking distance of dozens of restaurants, shopping, attractions and larger meeting spaces for offsite events, while the hotel's 800 square feet of meeting space can accommodate up to 60.
With an opening set for October 15, Tru by Hilton Raleigh Garner, located off the beaten path south of downtown, will offer a rural feeling in the metropolitan area.
A historic pre-Civil War-era mansion turned boutique hotel, Heights House Hotel's newly opened Parlor Bar has become a popular event destination. The small and inviting lounge offers a meticulously curated menu composed of Italian-influenced craft cocktails, an all-Italian wine list and local beers to reflect the mansion's 1858 Italianate style.
Also in the works is a development project for a 500-plus room upscale convention hotel, currently in its early stages. 
Downtown Raleigh's first distillery, Young Hearts Distilling, is an exciting F&B option for attendees to visit after meeting and event activities. Offering a variety of liquors, tasty bites and a menu focusing on local producers with a botanical-forward spirit, Young Hearts Distilling provides a sense of place and season in Raleigh. The distillery features a rooftop patio and event space, as well as its own gin, vodka, amaro and other small-batch liquors for sale. 
Wye Hill Kitchen & Brewing—which owes its name to the wye, or train junction, it's built over—boasts one of the best downtown Raleigh skyline views in the city, according to Visit Raleigh, and has become a popular social hub for its wood-covered patio and expansive craft beer selection. 
[Related: Raleigh Is Booming, and Its Event Venues Are Meeting the Challenge]
Charlotte
As North Carolina's largest city, "Charlotte's Got a Lot"—the Queen City's official slogan—isn't an understatement. From adventures including the world's tallest and fastest giga coaster and the largest manmade whitewater river to a motorsports hall of fame and the site of the first gold discovery, one-of-a-kind attractions and experiences pack Charlotte full of opportunities, especially in the city's sports and recreation scene.
Less than a year ago, the Charlotte Convention Center completed a $126.9 million expansion and welcomed planners and attendees to an additional 50,000 square feet of meeting space to the center's already 550,000 square feet. Additions include 14 new meeting rooms, two customizable 10,000-square-foot spaces and an over-street pedestrian walkway conveniently connecting guests to the 700-room Westin Charlotte hotel and the Brooklyn Village LYNX light rail station. 
Charlotte's Bojangles Entertainment Complex—or BOplex—also features new additions. The historic auditorium-coliseum complex opened in 1955 as Charlotte's first major civic auditorium and dedicated sports and concert venue and now offers a 35,000-square-foot connector adjoining the complex's two venues, Ovens Auditorium and Bojangles Coliseum. The new space features a 4,400-square-foot East CLT Room for seminars and meetings for up to 420, or an elegant dinner for 260 guests.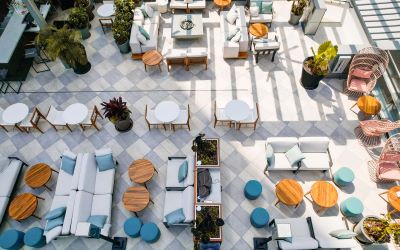 Since 2019, Charlotte has seen 18 new hotel openings and more than 8% additional room inventory, adding to the county's 244 hotels and 30,777 rooms available on a nightly basis. Charlotte's currently buzzing over recent additions that include:
The first JW Marriott in the Carolinas, JW Marriott Charlotte, located in Uptown Charlotte across the street from the Charlotte Convention Center and close to attractions such as the NASCAR Hall of Fame and Bank of America Stadium. The hotel's near-rooftop City View Foyer event space boasts floor-to-ceiling windows and views of the city.
AC Hotel Charlotte Ballantyne, a 186-room hotel featuring panoramic views of Uptown Charlotte, and offering the 16th-floor Panorama Ballroom, measuring 3,225 square feet with a capacity of 200, and the 2,800-square-foot Rooftop Terrace, which can accommodate 280 guests for a reception.
Grand Bohemian Hotel Charlotte, Autograph Collection stands in the heart of Uptown Charlotte with Argentinian-influenced guest rooms and a rooftop bar. With 16,225 square feet of total event space, the hotel can host gatherings of up to 455 guests.
Projects underway include the highly anticipated Moxy Hotel Charlotte, set to open later this year, and the InterContinental Hotel at Carolina Theatre, with an expected opening in 2023.
For teambuilding activities, Charlotte offers the U.S. National Whitewater Center—the only attraction of its kind in the world—just 20 minutes from the convention district. With more than 45 miles of developed hiking and biking trails, 30-plus recreational activities like whitewater rafting and ziplining, and specialized teambuilding activities and exercises including a low-ropes course, groups can work together while experiencing Charlotte's natural beauty.
For a true one-of-a-kind meeting experience, the Charlotte Motor Speedway includes the famous 1.5-mile NASCAR quad oval, three road course racing configurations and the world's only four-lane dragstrip, as well as meeting and event spaces for groups ranging from 25 to 10,000.
[Related: Charlotte's Young Chefs Are Catapulting Its Dining Scene]
Asheville
A roaring city on the rise, Asheville is calling all innovators, creators and collaborators to the "colorful patchwork" that makes it so unique. From event spaces offering immersive music experiences to elegant dinners, opportunities to host memorable and one-of-a-kind events are seemingly endless, and the city's collaborative culture, innovative spirit and independence promotes creativity.
The Blue Ridge Mountain city overflows with architectural treasures, educational museums and interactive activities including an indoor climbing gym, outdoor dual-ziplining and glassblowing, all encouraging visitors to take advantage of the city's opportunities for discovery and adventure. The iconic Biltmore—America's largest private home, a 250-room mansion built in 1895—is a popular sight-seeing stop as guests can tour the house, gardens and winery on the 8,000-acre estate.
Asheville's new Wrong Way River Lodge & Cabins offers a new natural experience for corporate events within its 16 cabins and River Lodge. With a number of new hotels openings in the near future, Asheville is ready to welcome groups of all sizes to its exhilarating atmosphere. Anticipated hotel openings include:
The Restoration Asheville, housed in the former Bank of America building located in the heart of downtown, is set to open in December 2022 directly across from Pritchard Park. The 60-room hotel will feature a ground-floor restaurant and upper-level views of the Blue Ridge Mountains, as well as event spaces for up to 325 guests.
Located on Biltmore Avenue, the independently branded and operated Zelda Dearest hotel will preserve three of Asheville's historic downtown homes and has plans that include the construction of outdoor spaces such as an event patio, game lawn, gardens and firepits.
In Asheville's River Arts District, the 70-room Radical Hotel will feature a restaurant, coffee bar and lounge, as well as a rooftop bar, event space and hidden speakeasy on the top floor. 
With a projected opening within the first quarter of 2024, Embassy Suites by Hilton Downtown Asheville is set to bring 185 rooms and more than 7,000 square feet of meeting space to Asheville's downtown area.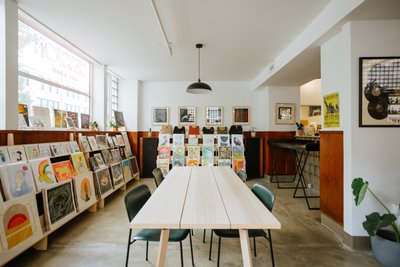 Notable offsite venues include the new Ella, with 3,000 square feet of industrial space, exposed brick and floor-to-ceiling windows, offering a nearly blank canvas to customize for any event, and Citizen Vinyl—located in the historic Citizen-Times building—an immersive music experience with a record-pressing plant, independent record store, music cafe and bar, as well as special event spaces on the main floor, mezzanine and outdoor patio for up to 200 guests. 
Asheville's brewery scene is bustling, too, with more than 50 craft breweries in the area giving the city its nickname, "Beer City U.S.A." Popular choices include Forage to Table, offering foraging tours highlighting the bounty of whole foods growing around Asheville, and White Labs, for paired beer dinners downtown.
[Related: Raleigh's Live Music Scene Is On Fire]
Wilmington and The Beaches
With a walkable riverfront convention district connected through a nearly two-mile scenic Riverwalk and easy access to the Wilmington Convention Center—the largest convention center on the North Carolina coast at 107,000 square feet, with meeting spaces capable of hosting up to 2,000 people—Wilmington and The Beaches draws planners from all around to its "perfect combination" of city and beach experiences.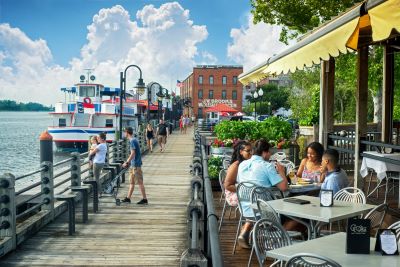 Home to more than 200 restaurants, dozens of hotels and local shops, plus an event pier, marina and riverfront park, Wilmington and The Beaches creates a campus-like environment for meeting and event attendees to enjoy everything from water- and land-based teambuilding activities to history, craft beer and themed walking tours, to trolley and horse-drawn carriage rides. Between exploring all the city has to offer, visitors can enjoy quick getaways to the Carolina, Kure and Wrightsville beaches, all a 20- to 30-minute drive from downtown.
As the city grows in popularity as a premier meeting and event destination, it continues to grow developmentally as well, with a number of new and anticipated onsite and offsite venues to experience. Popular choices in the area today include:
The Aloft Wilmington at Coastline Center, which opened late last year, features 125 rooms within walking distance of the Wilmington Convention Center, a ground-level bar, aView Rooftop Bistro, outdoor terraces and more, as well as a 7,300-square-foot ballroom and pet-friendly "Front Yard" outdoor space with a fire pit and music.
Also near the Wilmington Convention Center is Live Oak Bank Pavilion at Riverfront Park, a six-acre urban greenspace with Cape Fear River views and an ideal outdoor location for anything from small receptions to gatherings of up to 6,000 guests.
Ruth's Chris Steak House, a new dining and event location downtown, features outdoor seating and firepits, as well as private dining areas for 30-50 guests inside and up to 80 outside. 
Wilmington International Airport's (ILM) $68 million airport expansion is scheduled for completion in early 2023 and currently in its final phase. The addition brings a new concourse with three gates. The airport currently offers non-stop flights to and from major metropolitan areas like Atlanta, Dallas/Fort Worth, Chicago, Orlando, New York City and more.
As the No. 1 Best Al Fresco Dining Neighborhood, according to USA Today, attendees can enjoy pre- and post-meeting F&B experiences featuring fresh seafood, waterfront outdoor dining, craft cocktails and the Wilmington Ale Trail, a self-guided tasting tour featuring 22 breweries and 12 bottle shops.
[Related: A Look at the Newly Expanded Charlotte Convention Center]
Greensboro
Home to the first cat cafe in North Carolina, the largest carousel in the state and a three-mile international restaurant row featuring 70-plus restaurants representing more than 10 diverse cultures and cuisines, Greensboro's culture and character is a special and growing experience.
The centrally located city features a selection of 135 attractions, more than 500 restaurants and nearly 90 accommodations to choose from in the heart of North Carolina, and with the 22,000-plus seat Greensboro Coliseum—which used to be the largest single-seat arena in the nation when constructed in 1959—Greensboro is set to accommodate even the biggest gatherings. 
Recent hotel openings and more on the horizon have made hosting meetings and events at offsite venues throughout the city easier, bringing more rooms to areas near the Coliseum and Koury Convention Center: 
New to Greensboro this year is Hampton Inn & Suites Greensboro Downtown, with 120 rooms just minutes away from the Greensboro Coliseum. The hotel offers 1,522 square feet of total event space, with the largest setup measuring 1,170 square feet, along with two smaller meeting rooms.
Recently renovated, DoubleTree by Hilton Hotel Greensboro offers 175 guest rooms as well as 4,368 square feet of total event space and four meeting rooms. Its Gate City Sports Bar & Grille features fresh and local dishes from an environmentally friendly menu.
With an anticipated 2023 opening, the new Westin Greensboro downtown hotel is set to bring 180 guest rooms to the city, another 22,000 square feet of event space and a rooftop bar, as well as additional restaurant and dining options. 
Last renovated in 2015, Greensboro's Koury Convention Center, conveniently connected to Sheraton Greensboro at Four Seasons, remains a popular destination for meetings and events, offering a total of 250,000 square feet of versatile meeting space for events up to 3,000 guests, while the hotel offers 985 guest rooms next door. Event spaces range in size from 342 to 40,000 square feet.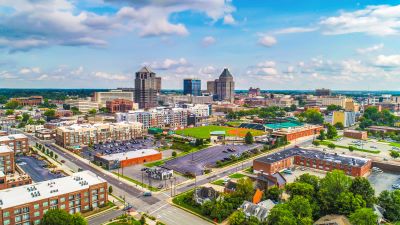 For unique, one-of-a-kind offsite experiences, Visit Greensboro recommends the Greensboro Science Center, an aquarium, museum, zoo and treetop adventure park offering meeting spaces including the SAIL Center–Think Tank Boardroom, with a capacity of 20 people for breakout sessions, and the SAIL Center–Great Hall, which can accommodate 21-120 people during daytime rentals. In the evening, cocktail parties at the Wiseman Aquarium can host up to 150. 
For an exciting F&B experience, visitors can enjoy MACHETE, James Beard nominated for Top 20 Restaurants in America. With a philosophy that food should not only be delicious, but "be creative, evoke memories and be a communal experience," MACHETE is ideal for private dinners, parties and events, with locally and globally sourced ingredients used in the restaurant's comfort food and cocktails.
[Related: North Carolina's Diverse Event Venues Showcase a State on the Move]
Chapel Hill
As a city that's been awarded nearly every "Best Places" award imaginable, according to Visit Chapel Hill, remember to keep Chapel Hill at the top of your list. With a bustling performing arts scene, dozens of local restaurants and kid-friendly opportunities, Chapel Hill is truly for everyone, and recent developments open doors to even more to experience.
Following a $15 million renovation, Sheraton Chapel Hill welcomed guests to a completely transformed property last fall. The 172-room hotel is positioned between downtown Chapel Hill, the University of North Carolina at Chapel Hill (UNC), Duke University and Research Triangle Park. With nearly 20,000 square feet of meeting and event spaces, opportunities for gatherings are abundant and especially popular on Sheraton Chapel Hill's dynamic, landscaped outdoor deck, measuring almost 7,000 square feet.
The historic Carolina Inn on the edge of UNC's campus and in the heart of downtown, recently renovated its 14,000 square feet of meeting and event space prior to its 100-year anniversary in 2024. Listed on the National Register of Historic Places, the Carolina Inn offers 185 rooms, the 2,480-square-foot Chancellor's Ballroom and the 3,960-square-foot Hill Ballroom, as well as 14,262 square feet of outdoor courtyards and gathering spaces.
Offsite venues are following suit, with a variety of unique experiences opening throughout the pandemic. New meeting and event venues in the area include:
The Story, housed in a historic building on Franklin Street, completed a full renovation in 2021 and features large windows, exposed brick, hardwood floors and iron staircases across four spaces: The Ballroom, the Rooftop, the Game Room and the Bridal Room. The Story's total capacity across all floors is 350 guests, and its covered rooftop provides a year-round option for outdoor space.
Still Life Chapel Hill's main level features a traditional nightclub space, while the speakeasy bar area, The Drink, is hidden behind a faux wall with a relaxed atmosphere, as well as the Sky Bar—a traditional craft beer and sports bar—and The Loft, marketed as a "premier lounge and event space" specifically designated for visitors 25 and older.
Chapel Hill is alive with group activities and sites to take advantage of, including recent renovations and additions to the Carolina Basketball Museum on UNC's campus. Guests can view several historic artifacts from UNC basketball history, including the shoes Roy Williams wore in the final coaching win of his Hall of Fame career. 
Following a $9.2 million renovation in November 2022, the Morehead Planetarium & Science Center, also on UNC's campus, added a new 4K laser projection system this year, giving new and returning visitors a clearer view of the night sky and an immersive, dynamic experience in the planetarium's famed full dome theater. Between 1960 and 1975, nearly every astronaut participating in the Mercury, Gemini, Apollo, Skylab and Apollo-Soyuz programs trained at Morehead, and exhibits in the rotunda of the building focus on the Morehead's history and astronomy roots. 
For a unique F&B experience, visitors can enjoy Honeysuckle Tea House, featuring an upstairs Tap Room & Lounge and downstairs Tea Room with tea and coffee. The tea house's signature herbal teas, hand-crafted mead and honey wine are available to try, and the open-air location also features farm-based beverages, a hammock garden and a gazebo built of recycled materials. 
Connect
visitRaleigh
(800) 849-8499
www.visitraleigh.com
Visit Charlotte
(704) 339-6040
www.charlottesgotalot.com
Explore Asheville
(828) 258-6109
www.exploreasheville.com
Wilmington & The Beaches CVB
(877) 406-2356
www.wilmingtonandbeaches.com 
Greensboro CVB
(336) 274-2282
www.visitgreensboronc.com
Chapel Hill CVB
(888) 968-2060
www.visitchapelhill.org 
Read this next: The Coastal Carolinas Plates Up a Bounty of Group Dining Options