These Coastal Carolinas Offsite Event Venues Are Group Favorites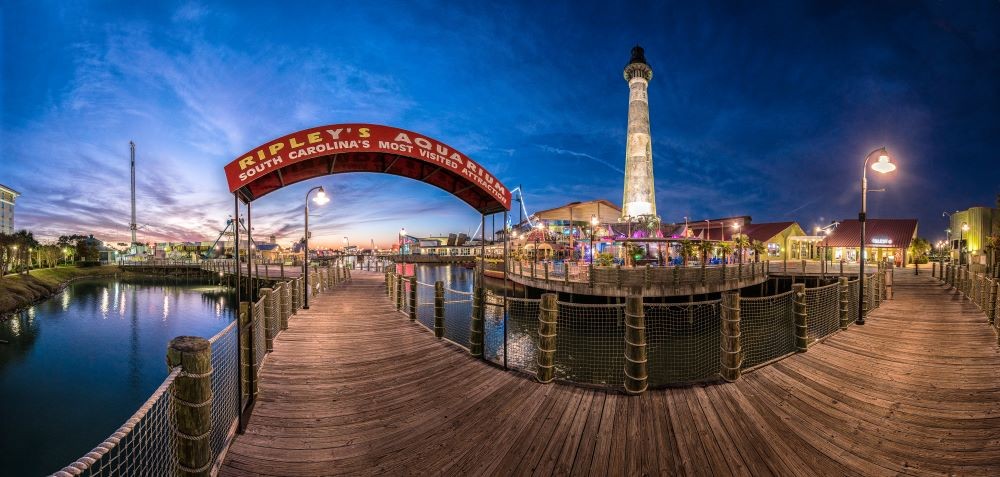 Broadway at the Beach, Myrtle Beach, South Carolina. Credit: Joe Carr Photography.
With beaches that beckon for seaside soirees or a dip in their temperate waters, the Coastal Carolinas features a multifaceted sampling of offsite event options, from Wilmington, North Carolina, down through the South Carolina destinations of Myrtle Beach, Charleston and Hilton Head.
Following are some unique Coastal Carolinas offsite event options that will find attendees enjoying the region's temperate coastal climes when breaking away from the main meeting facility. 
[Related: The Coastal Carolinas Plates Up a Bounty of Group Dining Options]
Wilmington, N.C.
The area around Wilmington, North Carolina, is widely known as the launching point to three of North Carolina's best coastal escapes: Carolina Beach, Kure Beach and Wrightsville Beach.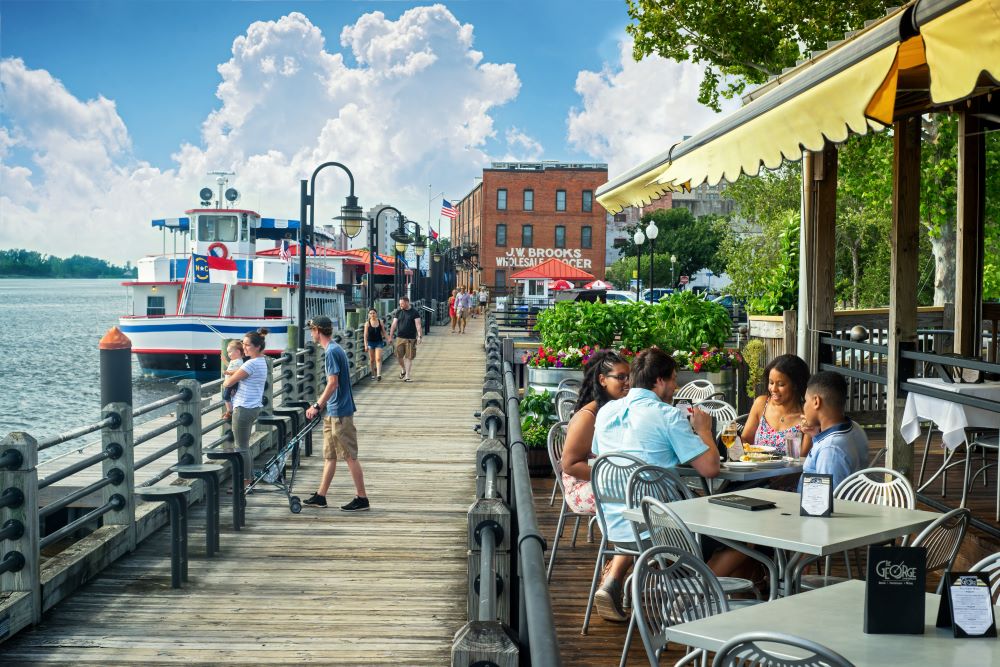 But while the call of the coast may be irresistible, planners may want to keep their groups in town by holding an event that showcases the city's historic bona fides. 
The history of North Carolina is on full display in Wilmington—the first capital of the colony was just to the south in Brunswick Town—which boasts colonial-era mansions in a downtown historic district listed on the National Register of Historic Places. 
Top historic venue events options include the following:
Airlie Gardens: A riot of colors and venue possibilities, the 67-acre Airlie Gardens, located across the Cape Fear River from downtown, dates to 1884 but was purchased by Hanover County in 1999 for a restoration and subsequent operation as a nonprofit, 501(c)(3) organization. The Gardens can host up to 300 for both receptions and banquets under live oaks draped in Spanish moss, with catering available.

Bellamy Mansion. Credit: Bellamy Mansion.
 

Bellamy Mansion Museum of History & Design: This antebellum architectural gem offers historic gardens, wrap-around porches and 5,000 square feet of event space for events of up to 50, all within close proximity to the Riverwalk and other Wilmington attractions.
Burgwin-Wright House and Gardens: A Wilmington fixture since before the Revolutionary War, this 1770 Georgian mansion is the only structure in the city from the colonial era that is open to the public, according to the venue. All of its rooms are decorated with 18th- and 19th-century furnishings and the one-acre footprint of the venue features colonial-style gardens and a courtyard for events.
Graystone: This venue, located three blocks from the Riverwalk, was built in 1905 and provides an elegant setting for a reception behind the towering Corinthian columns in its Grand Hall. The AAA Four-Diamond property can accommodate up to 150 for a banquet and also has nine sleeping rooms.
Historic not your style? The new 6.6-acre Live Oak Bank Pavilion at Riverfront Park is a Live Nation-managed open-air music venue overlooking the Cape Fear River that can accommodate up to 6,000 attendees. Other popular Wilmington options include events on the Battleship North Carolina and at the North Carolina Aquarium at Fort Fisher.
[Related: North Carolina Group Dining Shows Off Its Southern Culture]
Myrtle Beach, S.C.
The most popular tourism destination on the Carolina coast, Myrtle Beach offers 60 miles of beaches and 425 hotels with 180,000 rooms, according to data from the Myrtle Beach Area CVB.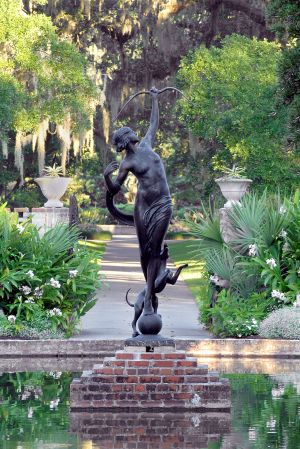 With visitor arrivals approaching 20 million per year coming for the destination's nearly 100 golf courses and more than 2,000 restaurants, there's no shortage of options for groups, but that's where one of Myrtle Beach's most unique offsite options comes into play.
Brookgreen Gardens was built in 1930 by industrialist and poet Archer Huntington and celebrated sculptor wife Anna. The more than 9,000-acre property just south of Myrtle Beach proper will fill groups with awe as they tour the largest collection of American figurative sculptures in the world—with 2,000 works by more than 400 artists—set along a meandering path and under the shade of live oak trees planted in the early 1700s.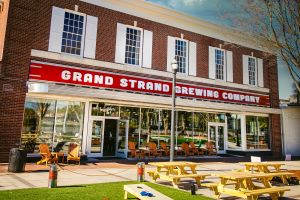 Groups can also visit the Lowcountry History and Wildlife Preserve, Lowcountry Zoo and take the Oaks Plantation Excursion boat cruise through the surrounding swamplands—with alligators guarding the shore.
Other Myrtle Beach offsite favorites include the many retail and entertainment options at Barefoot Landing, with Crooked Hammock brewery offering live music and an outdoor games backyard; and the iconic Myrtle Beach Boardwalk and Promenade, a more than mile-long oceanfront attraction featuring the famed Skywheel Ferris wheel, thrill rides and scores of bars and restaurants.
[Related: $65 Million Renovation at Kingston Resorts Elevates Myrtle Beach Destination Experiences]
Myrtle Beach is also on-trend with its craft brewery scene, with venues such as Grand Strand Brewing Company providing groups with a local-beer-fueled event venue option. Tidal Creek Brewhouse in particular operates a prime event venue, with a games lawn and gathering place as well as a stage for live music and the ability to bring in food trucks.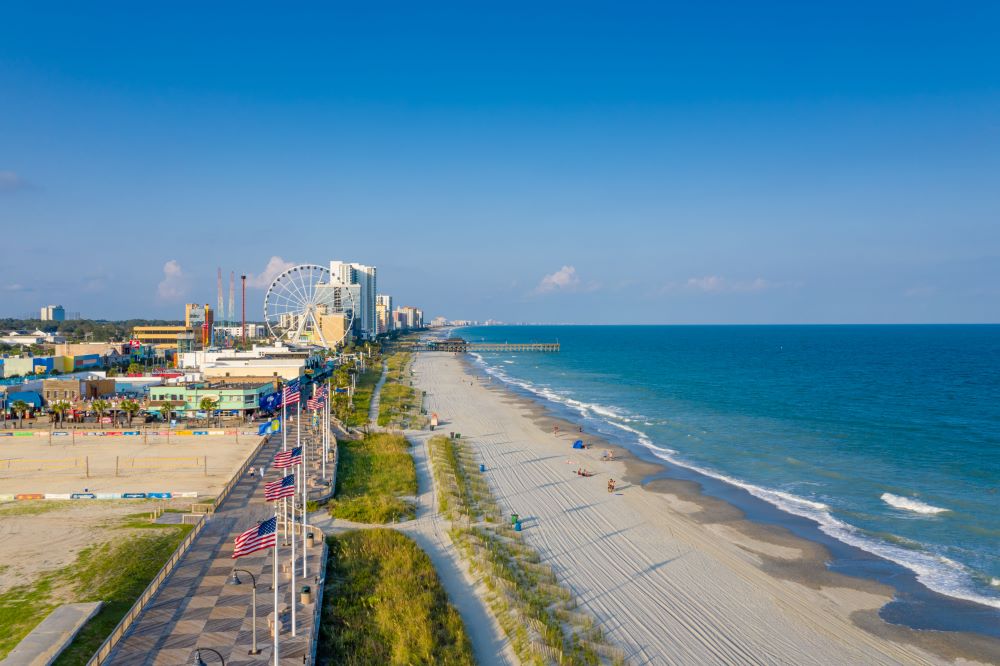 [Related: Multifaceted Myrtle Beach Shines at Meetings Today LIVE!]
Charleston, S.C.
Scheduled for a 2023 opening after more than 20 years of planning and a last-minute postponement to mitigate the building's humidity and temperature controls, the nearly $100 million International African American Museum will tell the stories of thousands of enslaved Africans, before, during and after their passage to the U.S.. The museum is set on the former Gadsden Wharf, where an estimated 40% of all enslaved Africans brought to the U.S. arrived.
[Related: 6 Great Group Dining Options in Charleston, S.C.]
The venue will offer more than 40,000 square feet of exhibit space in two stories, with highlights being a genealogy research center and the African Ancestors Memorial Garden.
Charleston is also one of the top foodie towns in the South, with a culinary history informed by a truly unique mix of Southern, West African and European traditions. 
One top Charleston restaurant that celebrates this tradition is Circa 1886, where the menu is actually divided into sections representing each style, with a pre-contact indigenous cuisine section also featured. 82 Queen is another popular option, serving South Carolina's signature Lowcountry cuisine and offering a historic courtyard and dining rooms that date to the early 1700s.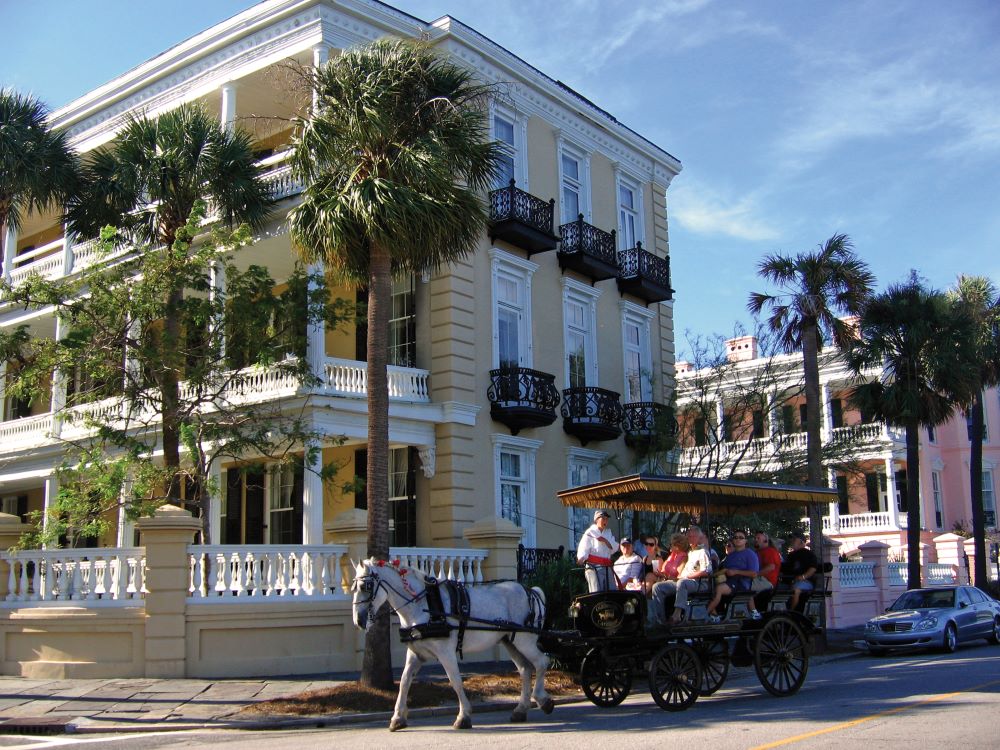 Hilton Head Island, S.C.
A self-contained meetings favorite, Hilton Head Island boasts 12 miles of beaches and is surrounded by more than 30 golf courses. The destination has also pumped more than $50 million into improvements into hotel and venue renovations, new-build projects and recreational facilities in recent years.
[Related: Meetings and Group Activity Options on Hilton Head Island]
While Hilton Head Island offers the new Hilton Head Distillery and major-brand hotels in a variety of price levels—there are more than 3,000 rooms in the destination—groups can take a short jaunt to nearby islands for a truly unique experience that ventures far beyond the four walls of a meeting room.
Groups can truly stretch out on Page Island, which is actually a series of eight connected islands that are perfect for teambuilding and networking events. Operated by Destinations DMC and accessed by a 30-minute boat cruise from either Hilton Head, Palmetto Bluff or Savannah, Georgia, culinary highlights include Lowcountry boils and oyster roasts, all under a canopy of palm trees festooned with hanging lights.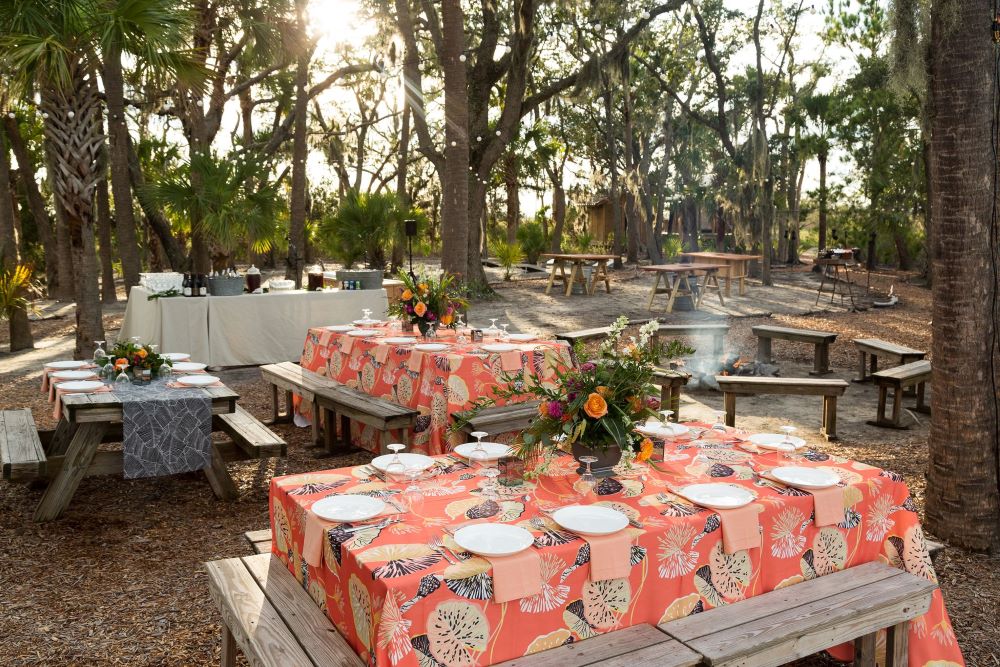 Destinations DMC operates a robust menu of teambuilding options on the islands ranging from simple networking activities such as kayaking, yoga, meditation and hiking, to games competitions, philanthropic teambuilding and challenge courses on a variety of course sets.
Located between Hilton Head Island and Savannah, activities such as dolphin sightseeing cruises and teambuilding programs are offered on Daufuskie Island, which is about an hour-long boat cruise from Hilton Head Island. Numerous restaurants on Daufuskie offer private event space and feature beautiful sunset views.
Other event favorites include:
Sea Pines Resort's Beach Club, where the nearly 2,000-square-foot Atlantic Room boasts 40-foot-high ceilings and spacious decks overlooking the beach and offering a capacity for up to 225 guests, along with other bar and restaurant opportunities.
Quarterdeck, a Sea Pines Resort Harbour Town favorite that is considered the best venue to savor the sunset, is located next to Hilton Head Island's iconic lighthouse and offers some of top dining in the destination.
The 68-acre Coastal Discovery Museum will have attendees mingling under a canopy of Spanish-moss-draped Virginia live oaks in a truly Lowcountry-inspired setting.
Skull Creek Boathouse opened a new Sunset Landing Pavilion adjacent to its restaurant. The events-ready facility features a fireplace, ambient lighting, video monitors and built-in space heaters, fans and drop-down siding for weather contingencies.
Latest & Greatest
Wilmington, N.C.
The Aloft Wilmington at Coastline Center (www.marriott.com), which opened in late 2021, offers 125 guest rooms within walking distance of the Wilmington Convention Center, a 7,300-square-foot ballroom and a pet-friendly "Front Yard" outdoor space with a fire pit.
Wilmington International Airport (https://flyilm.com) is set to unveil a $68 million airport expansion in early 2023. The addition will bring a new concourse with three gates.
Myrtle Beach, S.C.
Opened in late August in Kingston Resorts, Currents Seaside Entertainment (www.kingstonresorts.com) features a new grand pool outfitted with 28 cabanas and 350 lounge chairs, in addition to two Currents Waterparks.
Hilton Myrtle Beach Resort (www.hilton.com) finished a complete refresh of rooms, suites, event space, dining outlets and its pool area. The resort's 56,579 square feet of meeting space, including a top-floor ballroom that overlooks the ocean, spans 24 rooms and is suitable for groups of up to 1,000 guests.
Charleston, S.C.
The Isle of Palms (www.charlestoncvb.com/beaches/isle-of-palms), located about 40 minutes outside of Charleston on the Atlantic coast, added the Sweetgrass Inn hotel in March 2021. The 153-room boutique property offers a 6,764-square-foot grand ballroom and 2,760-square-foot rooftop ballroom with an ocean view terrace, along with the destination Spa at Sweetgrass.
Kiawah Island Golf Resort (https://kiawahresort.com) added a 23,000-square-foot conference center with a 10,000-square-foot ballroom and 11 breakout rooms in 2020 just before the pandemic. The West Beach Conference Center is located just inside the main entrance of the resort and can accommodate groups of up to 1,000 attendees.
Harbourview Inn (www.harbourviewcharleston.com), a 52-room downtown waterfront hotel, recently unveiled a $1 million interior refresh of its meeting room, communal spaces, guest rooms and popular rooftop terrace (the only remaining private rooftop in the Historic District). The property also updated its 546-square-foot Flagship Meeting Room with freshly painted interiors and a state-of-the-art smart TV. 
The Mills House Hotel (www.millshouse.com) is undergoing a multimillion-dollar renovation of all of the historic 216-room property's guest rooms and suites, common areas, pool deck, culinary outlets and more. Mills House Hotel offers 10,000 square feet of meetings and events space in the Signers Ballroom, Hibernian Hall and smaller breakout rooms.
The Bennett Hotel (www.hotelbennett.com), a 179-room property with 12,000 square feet of event space and a 6,600-square-foot ballroom, opened in April 2020. Set on Marion Square, its rooftop breakout room is a popular event option.
Hilton Head, S.C.
Hilton Head Island (www.hiltonheadisland.org) recently invested more than $50 million in hotel renovations, new-build properties and recreational facilities. Offering a total of 3,000 guest rooms, the primary meetings hotels in the destination include the Omni Hilton Head Oceanfront Resort, The Westin Hilton Head Island Resort & Spa, Sonesta Resort Hilton Head Island, Marriott Hilton Head Resort & Spa, Beach House Hilton Head Island and The Sea Pines Resort.
The Westin Hilton Head Island Resort & Spa (www.marriott.com) in November embarked on a $10 million renovation that will reimagine the property's existing 416 guest rooms and grow its room inventory to 419 rooms, including 32 suites. The renovation, conducted by Ellis Adams Design, is scheduled for a spring 2023 completion and remains open during the project. The property offers 22 event rooms, 13 breakout rooms and nearly 39,000 square feet of flexible indoor and outdoor event space.
Connect
Hilton Head Island VCB
(843) 785-3673

Meet Charleston
(800) 868-8118

Visit Myrtle Beach
(843) 626-7444

Wilmington and Beaches CVB
(910) 341-4030
Read Next: Why the Cuisine of the Coastal Carolinas Is Such a Treat