Tap These Unique Las Vegas Meeting and Event Venues for Smaller Groups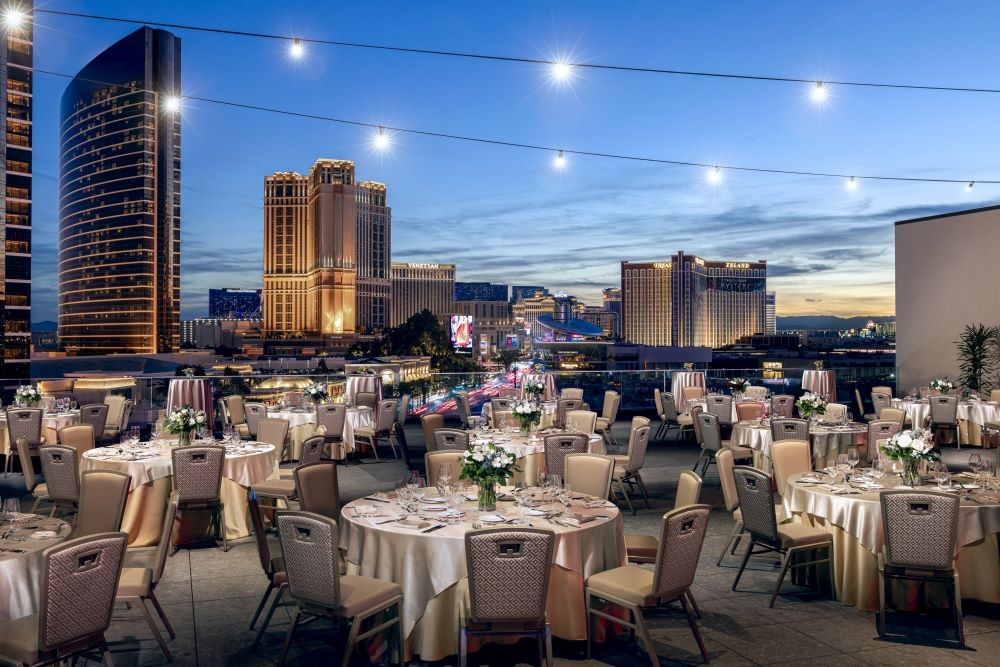 Rose Rooftop at Resorts World Las Vegas – Hilton, Conrad & Crockfords. Credit: Resorts World Las Vegas – Hilton, Conrad & Crockfords.
 
No destination does meetings like Las Vegas, with attendance numbers reliably spiking when conference, convention and other business events are held in the Sports and Entertainment Capital of the World.
In fact, nearly 5 million business convention attendees came to Las Vegas in 2022, with many congregating in one of its three largest convention centers: Las Vegas Convention Center, Mandalay Bay Convention Center and The Venetian Expo.
While large groups—multiplicities of large groups, in fact—will find plenty of space to network, dine and enjoy entertainment at many on- and off-Strip venues, smaller groups can also find a spot all to themselves away from the nonstop action of the destination. 
Following are some standout, unique meetings and events options that will suit a variety of group needs, from high-tech, private conference venues to spectacular, "only-in-Vegas" venues that could only exist in the bright lights of the desert sports and entertainment mecca.
[Related: Off-Agenda Experiences and Shows for Meeting Groups in Las Vegas]
Unique Las Vegas Meeting and Event Venues
The IACC-accredited Ideation Studio, located at Park MGM, was designed to be a "next-level" conference space loaded with all the latest technology tools to foster collaboration and concepts from the field of behavioral science, such as adjustable table heights, lighting, flooring and ideal room configurations.
Park MGM is the first hotel to offer groups Cisco Webex Boards and Cisco Webex Teams, an intuitive system that captures groups' meetings notes and allows for maximum collaboration via messaging, file sharing, whiteboarding and video calling, and offers 10 rooms with distinct layouts for groups from six to 24.
The Ideation Studio marked the completion of The Meeting Center at Park MGM, a 77,000-square-foot conference area with a large ballroom, 29 meeting rooms and a nearly 4,500-square-foot private outdoor terrace.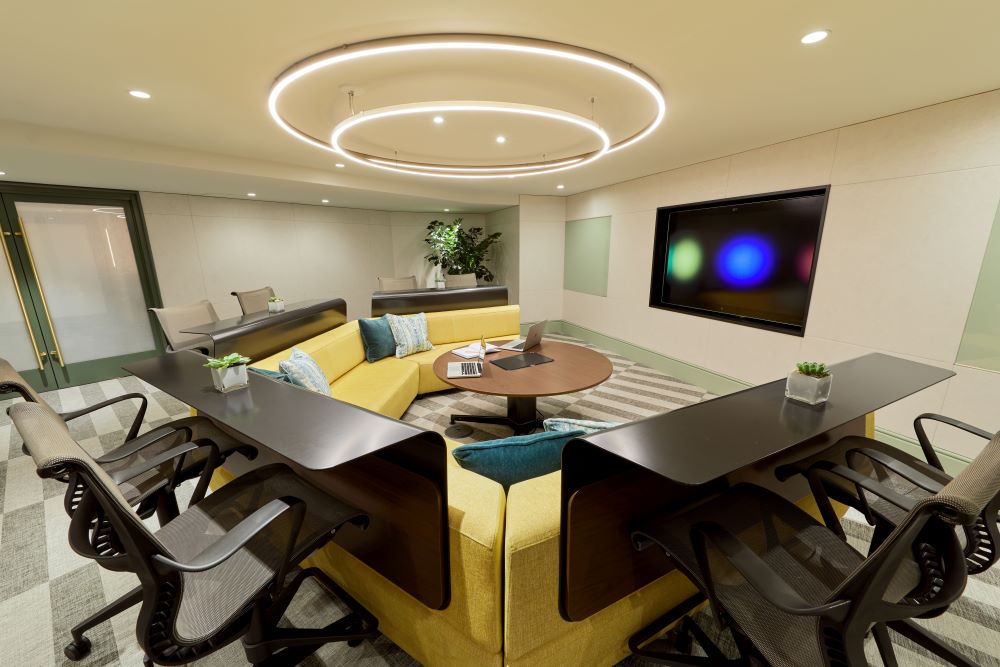 [Related: Park MGM's Meeting Spaces Now IACC Certified]
With a staggering 2.3 million square feet of meetings and convention space, including The Venetian Expo, The Venetian Resort Las Vegas is a popular choice for large exhibitions and tradeshows. Smaller groups, or breakouts from larger ones, will find a home at its nearly 7,000-square-foot Stella Studio.
Groups wanting a relatively intimate space right in the middle of the center of excitement that is the Las Vegas Strip can access the venue via the lobby of The Palazzo tower of The Venetian. The Stella Studio also has a private entrance and its own kitchen, bar and restrooms, so groups can feel relatively sequestered in the always buzzing destination.
The minimalist design of the venue provides a neutral canvas that can be activated for any type of event, with onsite AV provided by Encore and outside AV also an option.
Another The Palazzo option is the new Flight Club, a darts-meets-Topgolf-style venue that is great for small groups or buyouts for up to 600 guests.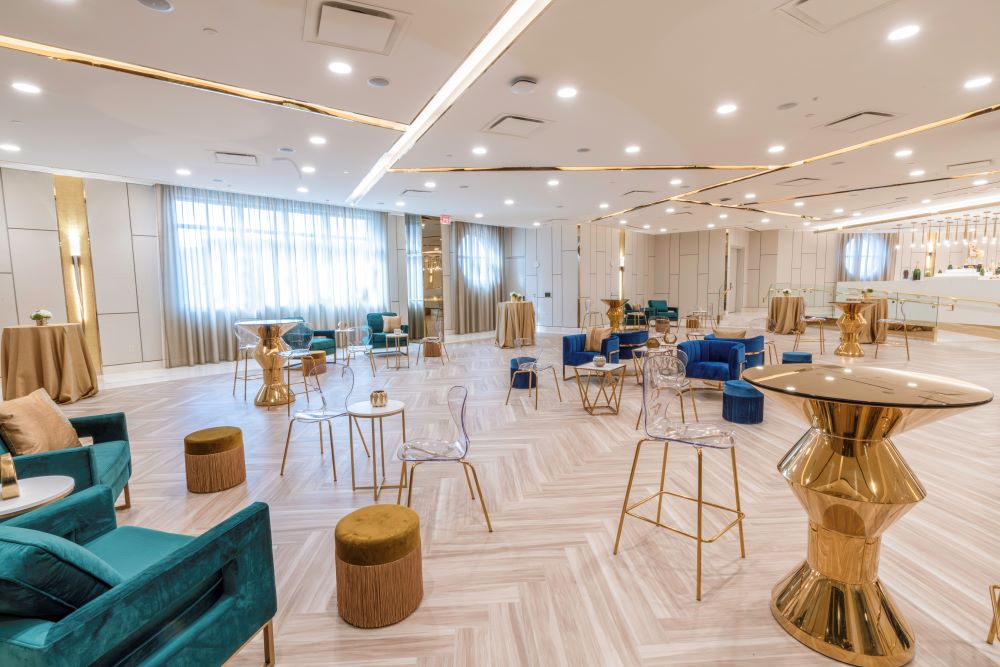 [Related: 4 New Tech and Design Standouts on the Las Vegas Meetings Scene]
Joining the more than 240,000 square feet of flexible meeting space at The Cosmopolitan of Las Vegas is the 40,000-square-foot concert and event showpiece The Chelsea.
Split over two levels, this design-forward venue, built to resemble an abandoned glass factory, is tucked deep within The Cosmopolitan and boasts cast-glass chandeliers, a vintage lobby bar, private VIP opera boxes and elegant grand staircase.
The 2,566-seat Chelsea is a frequent venue for top entertainment acts and offers in-house catering for events. Groups can also use the space for livestreaming events and presentations.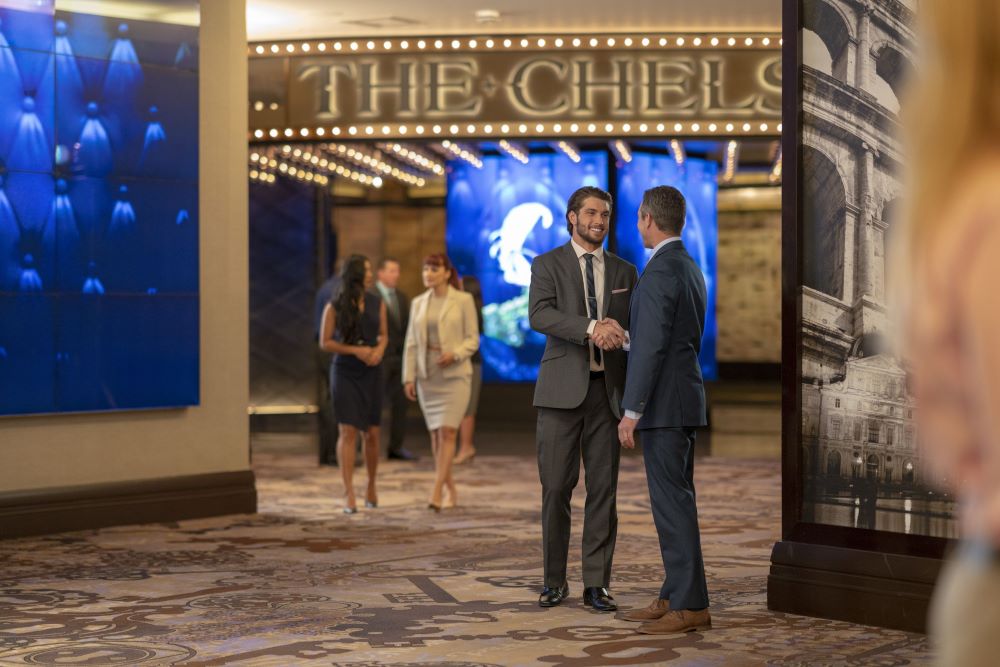 This fantastical retail and entertainment complex located about a mile from the Strip is a jaw-dropping experiential environment that will wow attendees via an immersion into a symphony of sounds and lights.
AREA15 offers a variety of unique venues that can host corporate and private events for 17 to 20,000 guests.
A standout AREA15 experience is Meow Wolf's Omega Mart, where attendees will wander sensory-stimulating landscapes filled with innovative art from the Meow Wolf artist collective.
Other options include The Grounds, a 20,000-square-foot outdoor space that can accommodate 20,000 for outdoor events such as concerts. The Grounds is joined by A-Lot, a 32,000-square-foot outdoor area that can host 2,400, including 1,380 for banquets, with the Las Vegas skyline as a backdrop.
Lost Spirits Distillery at AREA15 offers ample lounge spaces with cirque-style entertainment featuring acrobats, variety show performers, magicians and musical acts, and has an onsite rum distillery. The venue offers discounts depending on the size of the group, along with buyouts for corporate and other events.
Other out-of-this-world options include:
Oddwood is a 2,480-square-foot venue with a twinkling tree as the centerpiece and the ability to host 80 seated and 165 standing.
Portal, described as a "down-the-rabbit-hole wonderland," boasts 360-degree projection-mapped walls that can be custom-programmed by AREA15's video artists for any type of event. The 7,500-square-foot Portal can accommodate 220 for a banquet and 900 standing.
Sanctuary features a bamboo volcano sourced from bamboo originating in Java and Bali, and is filled with greenery to evoke a feeling of peace and tranquility. Measuring 2,000 square feet, Sanctuary can accommodate 60 banquet-style and 108 standing.
LIFTOFF is inspired by the aeronauts of the past and is often used for intimate events such as cocktail receptions and teambuilding. This 3,750-square-foot venue, which can accommodate 155 standing, features a lounge, full bar and catering options, and boasts panoramic views of the Las Vegas skyline.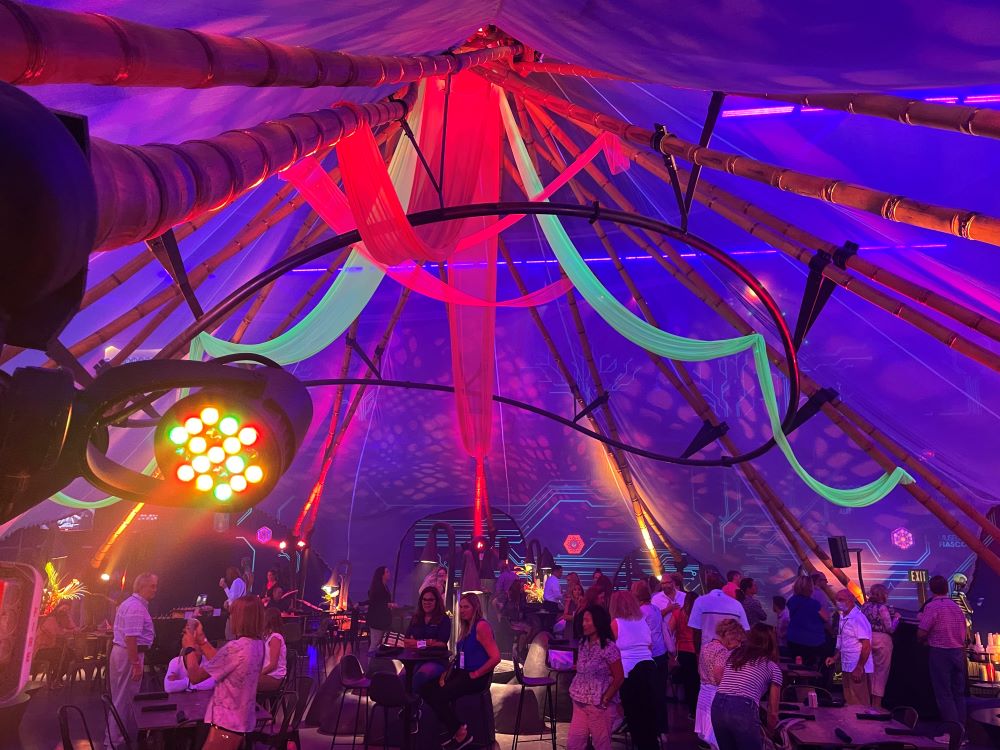 [Related: State-of-the-Art Immersive Environments That Will Blow Your Attendees' Minds]
Presenting the history of Las Vegas through its iconic neon art, The Neon Museum offers an outdoor events area and North Gallery Events facility.
The private outdoor events area is equipped with a collection of restored neon signs evoking Las Vegas' gleaming past. Groups of up to 250 standing and 200 seated can mingle, nosh and dine via F&B from one of six exclusive caterers, and also have access into the Boneyard Loop, where attendees can stroll past a two-acre collection of more than 200 historic restored neon signs.
The North Gallery Events venue is the museum's newest venue and was curated with small catered private events exclusively in mind. Up to 70 guests can congregate in this 3,144-square-foot venue, which is also outdoors.

[Related: The Story Behind Las Vegas' Neon Lights]
This sprawling open-air entertainment district located right on the Strip stands at the foot of the High Roller observation wheel—the largest in North America—itself a very popular option for group events in one of its 28 40-person cabins (which can be outfitted with bar service) that cycle 550 feet above Las Vegas during a 30-minute revolution. Attendees can also test their mettle via the FLY LINQ zipline.
Restaurant options at The LINQ Promenade feature outlets from top celebrity chefs such as Guy Fieri and Gordon Ramsay to Chayo Mexican Kitchen + Tequila Bar, Yard House, the French bistro-style Favorite Bistro, Tilted Kilt Pub & Eatery, and even West Coast burger favorite In-and-Out Burger, among many others.
Popular group event spots that can stage entertainment include Brooklyn Bowl and Jimmy Kimmel's Comedy Club.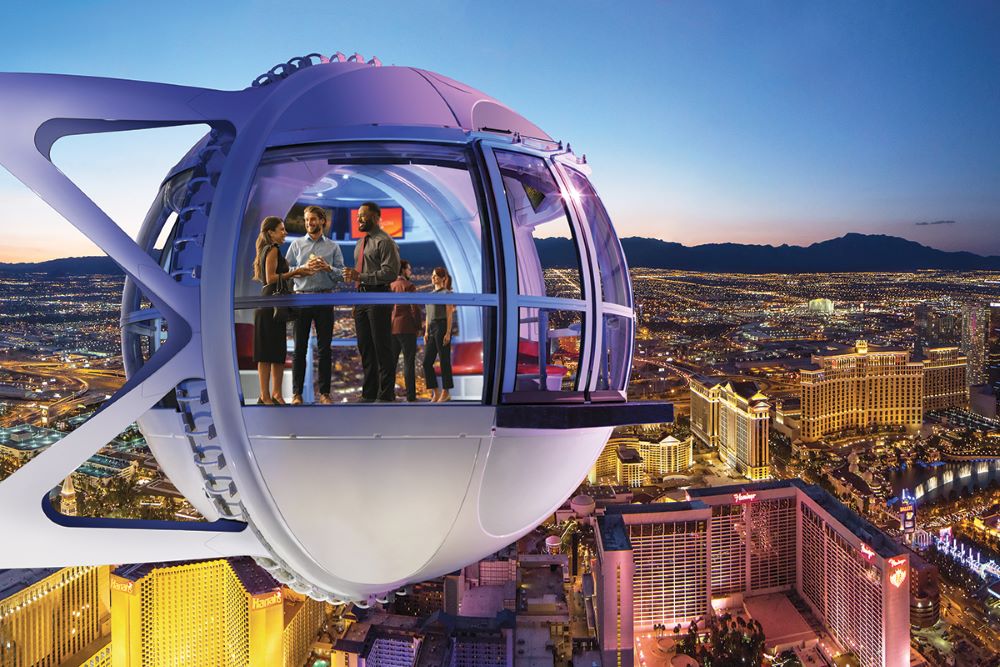 With jaw-dropping views of the Strip and Las Vegas Boulevard, this 24,000-square-foot rooftop terrace on top of the Conrad Las Vegas can accommodate up to 2,400 and is the perfect setting for that iconic social media photo op. Attendees gathering in this rooftop expanse can also partake in some friendly competition via its life-size games. 
The Rose Rooftop is located above the southeast wing of the resort, which offers three brands: the 1,496-room Conrad; 1,774-room Hilton; and the ultra-luxe Crockfords, a 230-room LXR Hotels & Resorts property that is one of only five locations in the world.
The state-of-the-art home of the NFL Las Vegas Raiders was built with meetings and events firmly in mind, as evidenced by top meetings industry gatherings such as SITE Nite North America being held in the facility during IMEX America 2022. MPI WEC also held its opening night celebrations there in June 2021.
Fancy a buyout for 65,000 or an exclusive group experience for 25? Allegiant can take on all comers in a variety of spaces. 
Its Field Level expanse can handle banquets for more than 2,500 and receptions topping 3,500, its artificial turf can be filled with food and beverage stations and interactive football games such as kicking field goals and catching passes.
Other Allegiant Stadium event spaces include the following:
Coors Light Landing is a 24,000-square-foot venue that offers a 1,200-plus reception capacity and 300 banquet capacity.
Cerveza Modelo Cantina Club, a 20,600-square-foot venue that offers a 700-attendee reception capacity.
Twitch Lounge, another 20,600-square-foot venue, offers a 700-attendee reception capacity.
Credit One Bank Club, a 9,400-square-foot venue, offers a 300-attendee reception capacity and 150 for banquets.
Champions Club, a second 9,400-square-foot venue, offers a 300-attendee reception capacity and 150 for banquets.
The Raiders Locker Room, an exclusive 6,100-square-foot option, has the capacity to host 60 for receptions and banquets.
The outdoor Ford Plaza offers 44,500 square feet of event space.
[Related: Meetings Today LIVE! Scores a Touchdown With Closing Event at Allegiant Stadium]
With studios in Las Vegas; Nashville, Tenn.; Orlando and Tampa Bay, Fla., the new Vegas "wow" venue Vū offers a state-of-the-art, full-service video production suite that is ideal for virtual and hybrid events via live-streaming applications.
Groups can take their virtual or face-to-face presentation offering to the next level via immersive LED walls facilitated by a staff of top engineers. Options range from relatively turnkey studios to custom configurations, with past clients that have included Disney, the NFL, Tractor Supply Co. and others.
This multimillion-dollar rooftop bar, restaurant and microbrewery brand's Las Vegas location near MGM Grand offers nearly 100 taps and a 30,000-square-foot terrace with views of the Las Vegas skyline.
Game options in the Brewery Tap Room include pinball, board games and shuffleboard, along with pub-style fare. The Terrace level offers elevated cuisine such as ribeye steaks, Wagyu burgers and lobster mac, along with vegetarian and vegan options.
Non-beer drinkers can avail themselves of a full bar with craft cocktails.
Editor's Note: This article is sponsored by and was produced in collaboration with the Las Vegas Convention and Visitors Authority (LVCVA)
.