9 Food Experiences in Newport, Rhode Island That Meeting Groups Will Love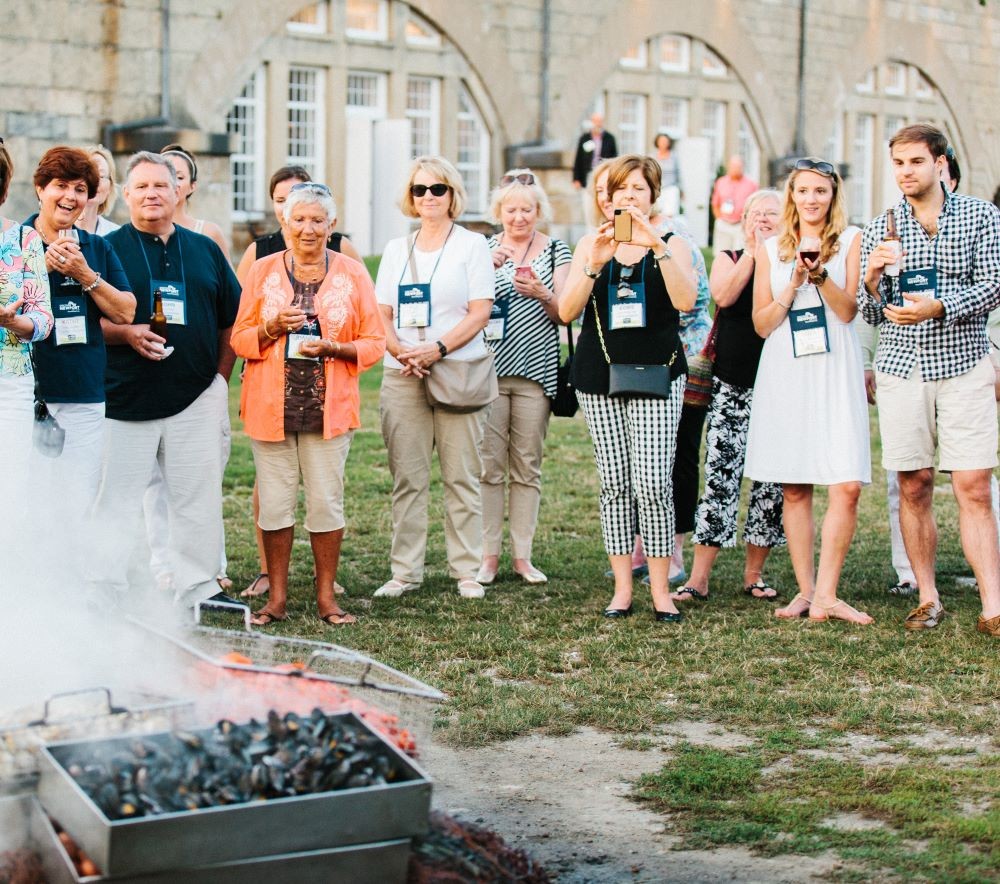 Clambake at Fort Adams, Newport. Credit: Erin McGinn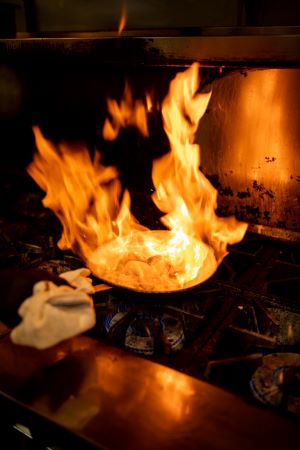 As documented by author and renowned researcher Brian Stinson in his 2018 book Newport Firsts: A Hundred Claims to Fame, America's fabled "First Resort" has been "a city of innovation since its beginning nearly four centuries ago." Newport originals include the nation's first free public school (1640); first ferry service (1657); first medical lectures on anatomy and surgery (1755); and first international professional tennis match (1889). 
Among America's earliest cities, Newport, founded in 1639, also claims several notable "oldest" honors. One of these includes America's oldest operating restaurant, the White Horse Tavern. Built in 1652 as a two-story, two-room residence, the structure became a tavern in 1673. Renamed the White Horse in 1730, the world's 10th-oldest tavern, once serving "all sorts of Strong Drink" and still going strong after 350 years, is a hallmark of Newport's long tradition of hospitality.  
At the table, across the bar, in the fields and by the sea, groups are in good hands at these representative culinary destinations. 
Sardella's 
In 1980, former Newport mayor Richard Sardella, whose grandfather Richardo Imbriglio was born in Naples, Italy, and ran a New Jersey bakery, opened Sardella's. Forty-three years later, he still runs Newport's oldest Italian restaurant with co-owner Patrick Fitzgerald. This local institution has been recognized as "Best Italian Restaurant" by Rhode Island Monthly and Newport Life for its menu of Northern and Southern Italian dishes based on family recipes. 
Recently added to the restaurant as a homage to Richard and his wife Catherine, Imbriglio's Pizzeria Napoletana serves authentic brick-oven, wood-fired Neapolitan pizza with pies named after the couple's seven children. Sardella's is also prodigious on the group front, having hosted more than 2,000 events in the venue's mix of flexible spaces. 
Midtown Oyster Bar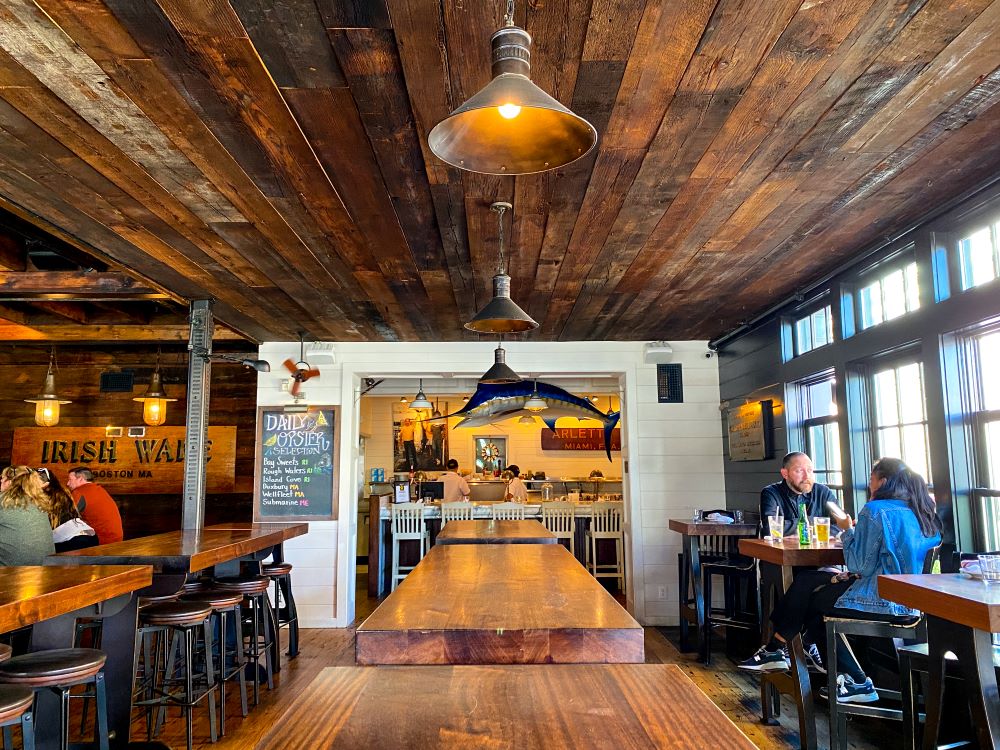 Prominent as a major seaport in the colonial era, Newport's culinary legacy naturally includes the bounty of the sea. Located in the heart of downtown Newport, Midtown Oyster Bar features the largest raw bar in town and a fresh seafood-driven menu. Oyster lovers can choose from up to a dozen regional varieties, including the West Coast and Canada. Signature dishes include Tuna Tartare Tacos, butter-poached lobster roll and char-grilled octopus. Housing two bar areas, three dining rooms and three outdoor decks, the two-story building flexibly hosts private events. 
[Related: How to Experience the Arts and Culture of Rhode Island at Meetings]
Hotel Viking 
Offering 14,000-plus square feet of versatile space, 208-room Hotel Viking is among Newport's larger meetings properties. Dining options at this 1926 heirloom on mansion-lined Bellevue Avenue includes fashionable One Bellevue restaurant and the scenic Top of Newport rooftop bar.  
The hotel also offers a full menu of culinary classes, demonstrations and teambuilding events. Highlights of the 2023 calendar include "Let's Make Some Pasta." This represents a significant "taste of place," given that Rhode Island, according to the most recent American Community Survey, has the highest population of Italian Americans per capita in the nation. The program includes a historical overview of how this food staple came to America and a pasta-making competition. The Mixology Mixer and Viking Chef Competition both kick off with a cocktail reception, while the customizable "Dinner with a Newport Murder Mystery" is a hit for corporate and private gatherings. 
McGrath Clambakes & Catering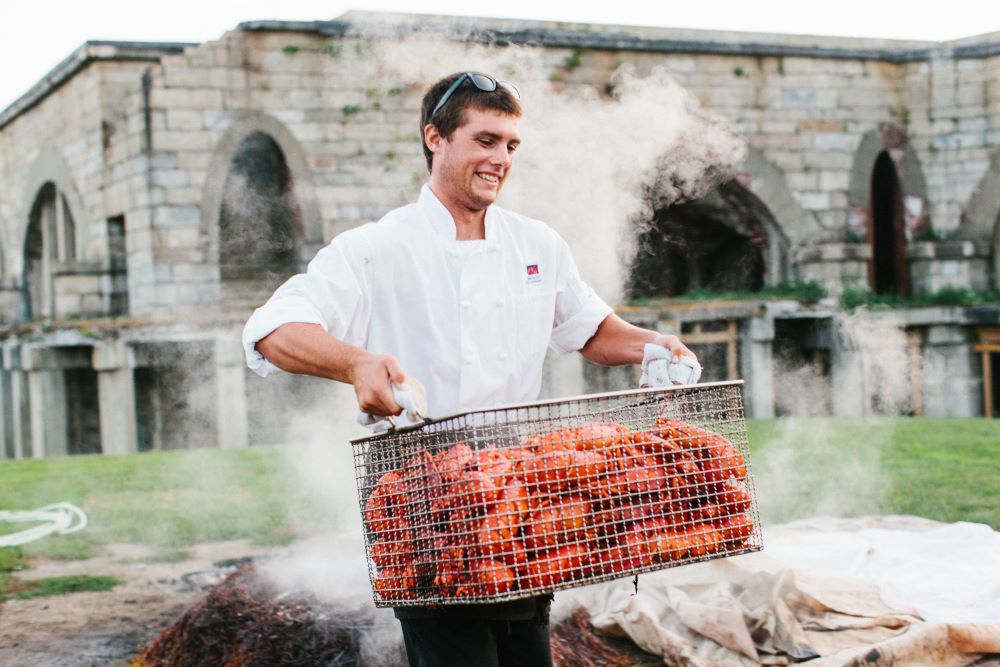 Another great group "catch" is a traditional clambake provided by long-time local operator McGrath Clambakes & Catering. Founded in 1969, this family-run full-service catering company brings more than a half-century of experience to delivering one of Rhode Island's great culinary traditions. Third-generation bakemaster TR McGrath and his team consistently customize clambakes and clam boils for corporate clients and private groups at venues throughout Newport, including Gilded Age mansions, the International Tennis Hall of Fame and Fort Adams State Park. 
McGrath Clambakes is one of the few companies that still prepares a clambake using the traditional cooking process passed down from early New England Colonists, which begins early in the day when crews harvest fresh "rockweed" off the local coast.   
Specialties include Quahog Chowder, Rhode Island clam chowder, "RI Stuffies" made from clams, breadcrumbs, chourico (Portuguese sausage) and herbs and spices baked into a clam shell. Portuguese history runs deep in Newport, with the earliest immigrants arriving in 1658. 
[Related: Newport, Rhode Island Is for Classic Coastal Connections]
Surf Club Newport 
Continuing with Italian cuisine, Surf Club Newport, which specializes in Neapolitan-style brick oven pizza, resumes its private pizza-making classes this fall. Chef Brian Ashness takes participants through the entire pizza process, from mixing, balling, stretching and shaping the dough to baking the finished product. 
Ashness learned his craft from 13-time World Pizza Making Champion Tony Gemignani, who has a major pizza presence in Las Vegas and California. He makes each class competitive by having his crew taste and judge the group's pizza. Featuring a rustic open kitchen and 150-year-old timber posts and beams, this popular restaurant and bar is available for events. 
Newport Vineyards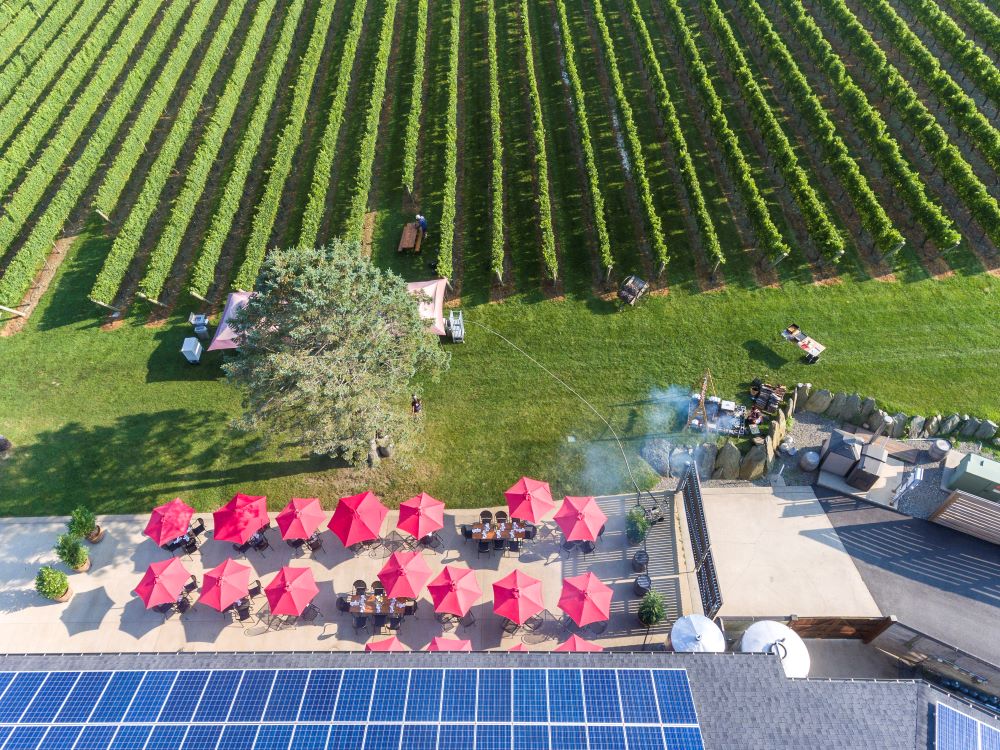 Newport County's viticultural collection includes another group destination rooted in family history, Newport Vineyards. In 1917, émigré Francisco Nunes, who came to Newport from Portugal's Azores region, acquired local farmland where, nearly 70 years later, retired Naval Captain Richard Alexander planted vines. In 1995, Nunes' Newport-born great-grandsons John Jr. and Paul took over and launched their since-expanded Newport Vineyards.  
With the original 55-acre Nunes Farm perpetually preserved through a partnership among the Nunes family, the Aquidneck Land Trust and the State of Rhode Island, the protected 100-acre property incorporates the winery along with Brix Restaurant and small batch craft beer-driven TapRoot Brewery.  
"We're in the business of creating memories," stated Paul Nunes, and that includes a wide range of customizable "farm meets vine" culinary experiences for groups, from cooking classes and private wine tastings and tours to charcuterie workshops, jam-making demonstrations and grape stomping. Signature experiences include Fire Dinner. Led by Executive Chef Andy Teixeira and his team, this visually entertaining "culinary performance" features a five-course menu utilizing fresh estate-grown and local ingredients, paired with wine and beer.  
Group resources include distinctive event spaces, onsite event planning and a complete, 100% farm-to-table catering program. 
The Mooring Seafood Kitchen & Bar 
Grapes are also front and center at The Mooring Seafood Kitchen & Bar, which offers one of New England's most acclaimed wine lists along with an award-winning menu that includes 'top-of-catch' seafood, locally grown organic produce and raw bar selections. Located on Newport's historic waterfront and an anchor of the scene for nearly 40 years, The Mooring's extensive dining areas offer fetching views of Narragansett Bay from virtually every seat. Indoor rentals include the 40-capacity Harborview Room and 32-room Yacht Club Room. The three-season Sunset Patio is a sought-after hot spot for 110-person outdoor receptions, with South Deck hosting 20-person seated gatherings. 
La Forge Casino Restaurant 
Another prime spot is La Forge Casino Restaurant. Dating to 1880, this Newport heirloom lives within the historic Casino building by legendary architects McKim, Mead & White overlooking the grass courts of the landmark International Tennis Hall of Fame. Originally a tearoom and candy shop, the year-round restaurant offers private dining rooms for groups of up to 150 people.  
Bellevue Boards 
At Bellevue Boards, owner Jackie Conner has mastered the art of styling charcuterie boards. Groups can book specialized private classes to learn how to create their own delicious spreads and arrange for picnic boxes, charcuterie cups and event catering. 
Connect 
Read this next: From Dining to Live Entertainment, Connecticut Puts on a Show for Groups