Leaning In to Vulnerability, Tough Topics and Bold Leadership
Season 2, Episode 6
Featured Guests:
Annette Gregg, Senior Vice President, Experience at Meeting Professionals International
Gwen Migita, Vice President Social Impact, Sustainability, Diversity, Equity & Inclusion, Caesars Entertainment
Melissa Majors, Chief Executive Officer, Melissa Majors Consulting
Last year, there were more women than men in the workforce for the first time in a decade. Fast forward to a year later, and we are facing a "she-cession," due to the COVID-19 crisis disproportionately affecting working women. With four times more women than men leaving the workforce as of last fall, the clock has clearly been turned back.
Now, more than ever, effective leadership is needed to support the needs and professional advancement of women.
Tune into a special live audience recording at Jimmy Kimmel's Comedy Club in Las Vegas as host Courtney Stanley interviews influential leaders on the most pressing topics facing women in the industry, including mental health, diversity, equity and inclusion, office politics, and more.
Don't miss an episode! Find them all here.
You can read the transcript to this podcast after you read more about our guests!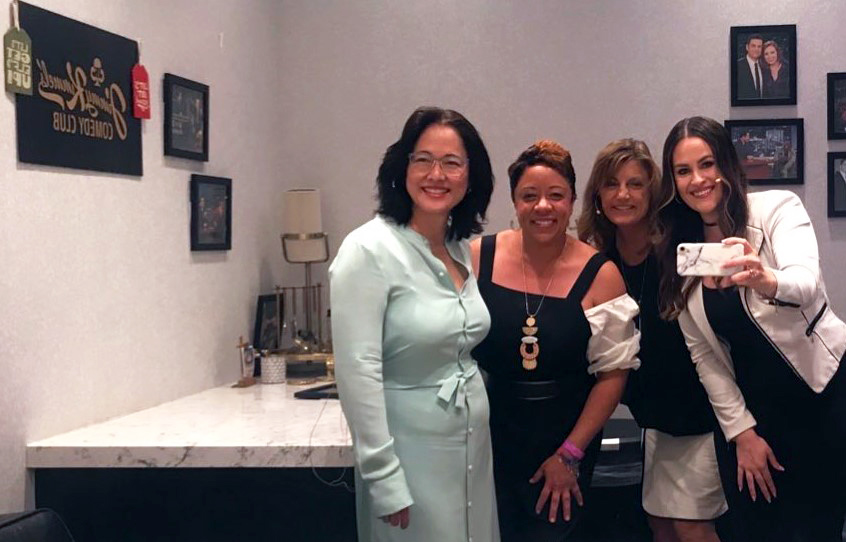 About Our Guests:
Annette Gregg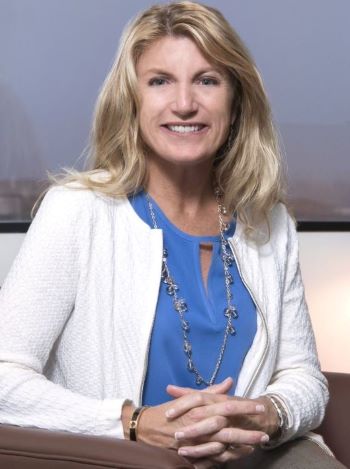 Annette, CMM, MBA, is senior vice president, Experience for Meeting Professionals International (MPI), leading its community engagement, events and education teams and delivering programs for its 16,000 members worldwide.
She has an extensive background in the meeting and hospitality industry, serving in executive level positions for corporations, associations and non-profits.
She regularly delivers keynotes on topics including diversity and unconscious bias, promoting women in the workplace, and a variety of professional development topics. 
Annette has taught at several universities including leading San Diego State University's Meeting and Event Certificate Program, and is currently instructor in Leadership for their Masters in Meeting and Events Program.
She was elected Instructor of the Year at SDSU and inducted into the Center for Business Intelligence's Circle of Excellence for her training and speaking.
She is an honoree for Women in Tourism and Hospitality and won the Coach Award for the Association of Women in Events and Planner of the Year for MPI San Diego.
Annette served on MPI's Board of Directors, the board for the Kim Center for Gender Equity, and San Diego Commission for Women and Girls.
She was named to the MeetingsNet Changemakers list for her work in women's empowerment.
Annette received her undergraduate degree in International Relations at the University of California, Berkeley and later received her MBA from California Miramar University in San Diego. She lives an active life with her husband and college-aged son in San Diego.
Connect with Annette
*     *     *
Gwen Migita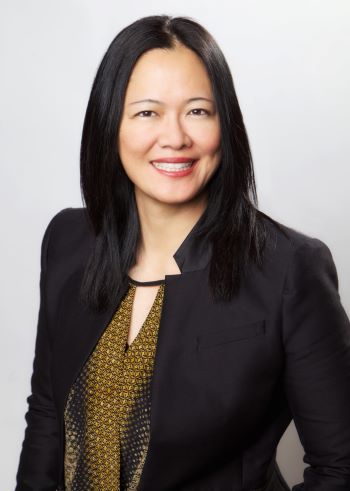 Working with more than 50,000 team members at 50 domestic and international resorts, Gwen sets the strategy and drives the management plan for Caesars Entertainment's Corporate Social Responsibility (CSR) initiatives including sustainability, Diversity, Equity & Inclusion (DEI), Responsible Gaming and community affairs. 
 
Gwen leads the industry in assessing macro trends and issues that may affect the business and development goals. She is on the forefront of utilizing customer data and spending behavior to show that strong CSR programs deliver purpose and a positive financial outcome.
Her work involves human rights, social impact, Environmental Social Governance (ESG), investor research issues and outcomes based on the corporate responsibility strategy. 
 
Gwen is currently the DEI Committee Chair for Sustainable Brands Advisory Board and on the Executive Committee of Sustainable Hospitality Alliance.
She and her wife Cuc Vu enjoy parenting their budding social justice advocates: Max and Ava in their pseudo spare time.
Connect with Gwen
*     *     *
Melissa Majors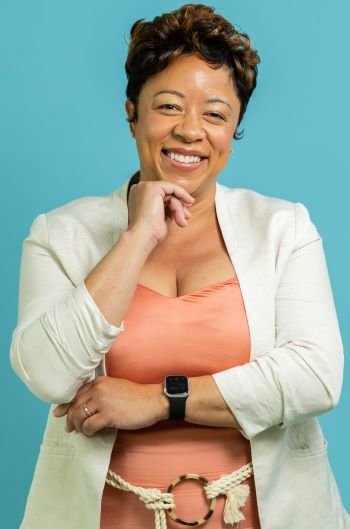 Melissa Majors is a crowd-pleasing speaker who masters brain-friendly talks that engage her audiences and spark not just inspiration but action as well.
Melissa is the author of The 7 Simple Habits of Inclusive Leaders, creator of Melissa Majors Consulting, in'klooded® and Community Keynotes®.
She is an innovator and optimizer of education, inclusion and leadership strategies. She has dedicated her career to maximizing the business impact associated with these areas of focus.
Melissa is featured in publications such as Forbes Magazine, Smart Meetings, The Meeting Professional, Northstar Meetings Group's Eventful Podcast, The Event DR, and on the keynote stage at events such as Meeting Professionals International's WEC, The Northwest Event Show, Catalyst Events, Legg Mason's DEI Conference and many more.
Melissa delivers talks on various subjects associated with leadership, learning and "blameless" inclusion.
She differentiates her content by blending research, neuroscience, purposeful stories and fun.
Melissa was already a featured guest in this episode: Inclusion is the Driver of Innovation
Connect with Melissa
---
[Start Transcript]
Courtney Stanley: Hello, everyone and welcome to a super special episode of Dare to Interrupt a listening experience where you have the opportunity to sit in on honest, unfiltered conversations with women who are considered to be the most influential, inspiring and innovative professionals in the world of events, hospitality, business and beyond.
Throughout their careers, these leaders have dared to interrupt conversations, their own comfort zones and sometimes even societal norms to hustle toward their greatest levels of success. 
My name is Courtney Stanley, and I am a keynote speaker event emcee and host of Dare to Interrupt. I am so thrilled to be recording this episode in front of our incredible live audience here in Las Vegas during MPI's 2021 World Education Congress. 
Here with me today are three amazing women from the industry. These women are leaders. They're trailblazers, and they're an inspiration to our community. Joining me on stage at Jimmy Kimmel's Comedy Club at the LINQ Promenade here in Las Vegas are Annette Gregg, senior vice president of experience at Meeting Professionals International; Gwen Migita, vice president social impact, sustainability, diversity, equity and inclusion at Caesars Entertainment; and Melissa Majors, chief executive officer at Melissa Majors Consulting.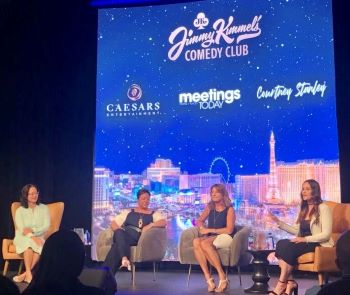 As you listen to our conversation today, I encourage you to share your biggest takeaways, your questions, your comments and your "aha" moments with us on social media with the hashtag #DaretoInterrupt. Make sure to tag me at #CourtneyonStage, as well as #MeetingsToday. 
So, before we dive into today's conversation on the hottest topics and most critical challenges that women in the industry are facing, I want to say thank you to the people and partners who brought this very special VIP experience to life today. So first of all, thank you to Tyler Davidson and Meetings Today for sponsoring the podcast, and thank you to Reina Herschdorfer and Stephanie Byrd from Caesars Entertainment for sponsoring the studio experience. And of course, we couldn't do it without the space and our awesome AV team. 
Ladies, it is fantastic to have you joining us today in person. Let's talk about some really important stuff. Shall we do it? 
Alright. So, Annette, here we are attending MPI WEC, toward the end of this global pandemic, your team has worked so hard to make this an exceptional, safe and meaningful experience for us, and we're truly grateful for that. I can imagine, though, that this has been an incredibly challenging and unique time to lead a team and an association in the events industry. So, I'm curious, what are some of the most difficult obstacles that you have had to navigate.
Annette Gregg: So first, thanks for having me, Courtney. And I'm thrilled that I'm able to sneak away from next door and talk about important things to women, the industry, because I think there's never enough time to get to some of these core issues. This has been a big, big challenge for any leader, especially women leaders, because as we'll talk about later, you'll see a lot of us are really struggling even to come back to jobs that we had before. But we did some consulting work during this pandemic with an outside firm, and they introduced us to the term VUCA. 
And really, it's about a 20-year-old term came out of Stanford, I think, but it stands for volatility, uncertainty, complexity and ambiguity. And this is definitely a VUCA time—all that we experienced over the last 18 months, and it kept shifting, and there were so many different factors. 
And there were, for us as a global organization, so many different countries with so many different rules and factors. And so, some of the thoughts that we had as a leadership team, the way to kind of survive during a VUCA time; one of the key areas that we focused on is just having clear, consistent communication. Because when you have staff going in a million different directions, and then next week you have to change that direction because of an external force—people struggle with finding out priorities, and everyone just wants to have a clear path to success. 
We had to really create simple, clear priorities for everybody during this last year and a half, and even if they changed a month later, we had to communicate that again. And that's where it goes back to consistent communication. 
We made a real commitment to having weekly kind of town halls during MPI for our internal staff, and really just opening up for meeting people where they're at and being very clear with leadership priorities during that time. And just making sure people were okay; maybe really reach out to them person-to-person as well. 
The second thing that comes to mind besides VUCA is really just as a leader finding that balance of vulnerability with discretion, because I think women are especially suited to lead in times of VUCA because we have certain gifts that are innate to us, like empathy, and really communicating with others and reaching people where they're at. So, I think leaning into that during times like this really is going to help guide a team through the darkness. 
At the same time, you can't tell everybody everything, because sometimes there's just too much going on in the back that the leadership team has to deal with—kind of how the sausage is made. That just doesn't do anybody any good to be really—I don't want to say transparent, because transparency is good—but giving too much information too soon. 
I think there's a fine balance of vulnerability and saying, "Hey, we don't have all the answers. We're people just like you. I'm dealing with mental wellness issues just like you and I'm dealing with stress at the same time." They don't need to know that maybe layoffs are coming and things like that, right? 
So that's some of the grounds that…I just grew as a leader, trying to find that balance these last 18 months.
Courtney: Let's talk about this "she-cession" that's happening right now. We're four times more women than men left the workforce during the pandemic since last September, and or as of last September, and how that's hyper-relevant in our industry where women make up nearly 80% of our own workforce.
[MPI WEC 2021 Posts Healthy In-Person Attendance]
And in fact, Florida International University just released the results of a survey that showed 30% of our industry is not planning to come back due to variables like burnout from long hours and really stressful jobs. 
So how can we get serious about addressing this mass exodus of women in our industry, and better support their needs in their growth and their professional development?
Annette: Yeah, such an important conversation. And I know, over the last 18 months, we've talked a lot about emotional and mental wellness. But now you're seeing the real results of it, right? When now we have jobs to give, and people don't want them like they used to. 
It's fascinating, I think, when you look at it. One of my agency friends said they are trying to call back people from furlough and had like a 40% response rate. The rest are saying, "No, thanks. We're going to check something else out." 
There is a PR problem with our industry. Yet, I love our, industry—been doing it 25 years, you in the audience love our industry—so, what is that message? I mean, I think we heard some really valuable takeaways on mainstage yesterday. I think it was Cleo [Battle] that talked about, we have to tell a better story about why this industry is powerful—and it can be fun, that's wonderful; can be creative, and it moves mountains, right? 
The work we do, creating human-to-human connection, changes the world. That's a story we have to tell to recruit the next generation of meeting and event professionals and to recruit back the ones that don't want to come. 
Now, that being said, PR is one thing, and the other thing is, hey, let's "walk the talk". Let's give people fair wages. Let's create fair expectations about hours and what we expect out of people. Let's not make them wear three or four hats. If we all have been wearing three or four hats this last year—it's just not sustainable. I'm tired, right? We're all tired. And this is not sustainable going forward. 
I do think we need to be really fair to our people and honor that if they want to be in it for the long haul, let's create an atmosphere that is sustainable for the long haul. So those are a couple things that come to mind. I know we're going to get into mental wellness, and I have some thoughts on sponsorship and mentorship, but I can wait on those.
Courtney: I want to just take a second to ask the audience to be bold. How many of you just by show of hands—if you're comfortable responding to this question—how many of you have lost your job at some point in your life? 
Okay, so if you look around the room, that's almost everybody in the room, and I will tell you that I have been let go twice. And there are a lot of thoughts, there are a lot of emotions to navigate when you feel like you've failed, which a lot of people in this room I'm sure can relate to. 
I think that shame and embarrassment are a couple of emotions and feelings that come to mind. Or there could be an expectation where you're supposed to feel ashamed, but actually you feel relieved and empowered to move into a different chapter. 
Gwen, what are your thoughts on this topic with so many people in our industry, finding themselves navigating their next career move, whether it's due to the pandemic or something else? I'd just love to hear what you think.
Gwen Migita: Sure. You know, having gone through furlough myself as well as my wife... You know, my wife as well had lost her job prior to the pandemic. But I really think it comes down to the individual and how can we be peer-to-peer support to each other, because I know a lot of our industry and many of the American corporations don't necessarily have the safety net around mental health and support and openness to talk about well-being beyond, you know, the things that are less sensitive, right? 
The physical well-being "work-life balance" which really doesn't happen. I think there's a whole catalytic movement that needs to happen in our workplaces and in our local communities to be okay to talk about not being okay, and to declare this whole feeling about, "I'm not okay," and to address the healing aspects in our country, mental health and well-being and the lack of investment in this state and many states. 
It's pitiful—people don't even talk about that—companies want to do better...but it's almost like they don't know how. They are trying, but it's just about scratching the surface at this point. Our company started the first employee resource group around disability with an emphasis around mental health as well, recently, but even talking about the fact that one has a disability and long-term effects—mental health or stress and anxiety in the workplace, depression—about one in four team members in any company in the U.S. tend to have depression long-term or anxiety in the workplace. 
But no one talks about that, right? And even showing up or being part of these groups, the projecting that it's about caretakers as well, is how we're getting people to be comfortable to be there.
Just myself as well, I didn't know that ADD—attention deficit disorder, the syndrome—was also a disability; be more open about our opportunities and how we bring—I think ADD in my type of job helps in many cases, it might drive my team members crazy at times—but you know, it is a good balance for a stronger team to be open and vulnerable about it.
Courtney: Well, let's take a moment to talk a little bit more about mental health, because this has become a bigger topic, with people struggling so much specifically with depression and anxiety, even more so during the pandemic, with anxiety being reported three times more than in 2019, which, to me is unsurprising. 
But it is a huge topic that we really don't talk about—we might bring it up every now and then. It's something we should do, but we just don't. We don't dig deep enough, in my opinion. 
Do you think that most companies in our industry empower people to put their needs first? Or do you feel like there's still this overwhelming stigma around mental health? And I'd love to hear all of your thoughts on this.
Gwen: I think they intend to, but I think if the leaders themselves are not vulnerable and open about their struggles, which there's still a stigma about if you're open about your weaknesses, or you say this is too much work for me, I'm going to lose part of my role— which I mean, honestly has happened to me in the past as well.
I haven't heard of any senior leader sharing that what they've got on their plate is too much. They'll project and say, "Okay, let me reduce this side and don't do that. It's about building too big of the strategy too fast. 
I think, in order to shift—culture is probably the most difficult thing to change. As Michael Porter said, "Culture eats strategy for breakfast." I live and breathe strategy—the culture side of my job is 1,000 times more difficult.
And I think it's our jobs as leaders or outspoken people...as consultants in the space—and I know Melissa does this quite a bit—I'm assuming we'll also be changemakers. Because I think we were talking about disability, depression, mental health in different ways? 
It's almost like me coming out 20 years ago as LGBTQ. And we tried to—often people projected it as the old image of someone who was gender non-conforming, right? So, you think about images who were not mentally health…non-conforming—the person in the street, who might be more exposed to it; the homeless—I think we have very old and dated images of what this is that really has to shift in corporate America first.
Melissa Majors: I think as leaders, we can go ahead and assume that we're all in between losing our minds and finding our purpose. Like, you can go ahead and anticipate that and put some things in place to help reduce burnout. 
I mean, it's so hard because of the stigma. It's so hard to proactively admit to your boss that, "Hey, I'm suffering from mental illness." 
So, we need to go ahead and assume people need help, and there's things we can do around being mindful about the work that we put on people's plates. So, they are spread too thin and focus on things that really, really matter, and incorporate mindfulness into your day-to-day operations. 
[Read next: DEI in Tourism and Hospitality: A Look Back and Forward]
I encourage people to take brain breaks, intentionally. At the beginning of your meeting do a quick three-minute guided meditation just so everybody can have a break and breathe. So, there's things we can go ahead and do in advance without requiring someone to come forward rapidly and say, "I need help."
Annette: Yeah. My last comment on that is that it really is incumbent on leaders to set that safety—to create that safety for workplaces to have—because as leaders, if you're not paying attention to your own emotional intelligence, and you're just creating more and more stress, you say, "No, I want to meet people where they're at," but your language is still all about meeting numbers and meeting quotas when your team is just dying; you're not creating space where they feel vulnerable and say, "Hey, I've maxed out and I need to wave the white flag now."
We have to be careful about the messages we're sending, and what does that really look like to truly walk the talk and say, "No, I support you, I'm going to get you help." Does that mean a contractor pool?" But if we're not budgeting for that, it's not going to happen.
It's just hollow words, like, "Sure, it's great to say you're supportive of me, you're not sending me any help at all, you're not taking anything off my plate."
I think we need to check ourselves and be honest with ourselves as leaders. You can't just say it, you've got to create a culture where people feel honest—they feel safe, to be honest—and that you're going to provide a solution when they finally raise their hand, because to raise their hand—we're all so tough and we're all so overachievers—to finally get to the point where you're raising your hand, it's a big step for people. So be ready to answer with some help when people finally say, "I've hit the wall."
Melissa: And absolutely one thing I want to add, especially as it relates to women— I think it's we who are two times more likely to get Alzheimer's and dementia. Wow—women are stressed out! And stress is as damaging to our brain as smoking is to our lungs. And the damage happens 20 years before you even see signs of dementia or Alzheimer's. 
We've got to get this in check, not just for today's moment, but for the future, and we're killing each other. So, stress is something we truly have to mitigate.
Courtney: Yep, I think that's so true. And I think it's so difficult to be honest about things like anxiety, and things like depression, because it makes you feel like you're weak. Just truthfully speaking, I'm somebody who struggles with anxiety quite a bit—who want to show up and be seen a certain way, and then to really step into a vulnerable place where you have to admit upfront and say, "I'm actually not doing okay, and these are the things that I need. "It's really, really difficult. 
I like your point about it really being leadership's opportunity to create that space and set the tone and really lead in a way that allows vulnerability to be not just acceptable but encouraged.
Annette: It's the only way to really build up strength for the long haul, in my opinion. And I love what Melissa said about the brain break and really paying attention to that. I lead the events team, the education team and the chapters teams at MPI. Those are all the kind of client-facing teams.
We have a lot of stress. We have a lot of detailed work focused on the consumer. And so, I started our team meetings with just peer-to-peer recognition. And I said, you know, what if we run out of time, but we spent the whole time recognizing each other? Then that is time well spent.
Because we just don't do it enough. And it's great coming from me; I can do it. But it's better coming peer-to-peer and sideways. And it just gets them in the right brain space, everybody de-escalates instead of getting right into the team meeting and say, "Oh, my gosh, I need this." And this puts people in a better, more creative brain space, because we just shifted. 
[Listen to this: Toxic Bosses, Workplace Trauma and Choosing Yourself]
And that's an easy fix, right? And it didn't cost me a darn thing, right?
Gwen: I also think, context-wise, needs to be said, because I've tried to set a different dialogue with teams or other teams—I know, it's all through the screen and Zoom. But sometimes it was misinterpreted; I have had situations where, you know, "How are you feeling?" Or you ask about...literally you care about how people are feeling because they might have been isolated or they shut down. And they might have misinterpreted that intent as being put on the spot. 
Other situations have been misunderstood, as well. So, I really think there has to be some sort of reinforcement beyond our teams, beyond our direct sphere of influence, and what it really means to talk about healing, belonging and supporting each other, because I feel like it can get to be a slippery slope. 
You know, good intentions have other outcomes sometimes. And I think we need more help. Or I would ask for more help, and how can we create that that culture to be supportive."
Courtney: So, in the vein of good intentions, I'd like to get into a conversation that is definitely at the forefront of our culture today, in our society today. And that's race. 
And we're super fortunate to have not one, but two diversity, equity and inclusion experts with us today, Gwen and Melissa. I want to start this conversation off by asking a bold but humble and honest question. And for our listeners, I also want you to know that, speaking of good intentions, this is a question that we came up with together. So, this is coming from a place of collaboration. 
And Melissa, I'd like to start with you. There are so many people who want to help create a fairer and more just world but observing the cancel culture epidemic can be extremely intimidating. And fear is holding people back from getting involved at all because they don't want to make any mistakes, if they say or they do the wrong thing, unintentionally. So how can someone overcome the fear of being called out for being racist instead of becoming an ally and taking action?
Melissa: Yeah, it's a great question. And it's real.
There are a lot of people walking around on eggshells; they don't know what to do. And based on my research, 80% of C-suite executives recognize that their intentions are missing the mark, but they don't know what to do about it. And so, what I encourage is that we need to embrace our bias, like go and stop ignoring or denying the fact that we are all biased.
If you have a brain, you're biased. I mean, it's a threat detector within the brain; it's all in there. And over time, our brains get programmed with all sorts of stereotypes and things that we think about other people. And then our brain fills in the blanks before we really know someone's character. It happens.
I encourage people to embrace your bias and admit—don't deny and ignore it—because if you deny it, you'll never be able to catch those unconscious pesky thoughts that pop into your head that say, "Oh, they're more different than me, so they're less trustworthy. I mean, this podcast is all about being vulnerable. So let me just go ahead and spill some tea right here on the stage.
A couple years ago, I was the head of a large technology company. It was the first time I was responsible for clients and partners in the Middle East. Well, I need to scale up really quickly. I had clients that weren't getting served there.
I needed to bring on partners to help extend their reach. So, to make my final decision, I needed to travel in the Middle East to meet them and make a choice. Leading up to that trip, I had so much anxiety. I was so nervous about what was going to happen.
When I got there and I met with them, I was pleasantly surprised. They were fabulous, super smart, funny, down for my cause—they were just fantastic. And then later, I was in my hotel room reflecting on the success of the day, and the question popped in my head, "Why are you so pleasantly surprised?" And I realized what I was expecting were terrorists.
Growing up in the Midwest, I didn't know anyone from the Middle East, and all I was exposed to were images that I saw on television; war-torn countries, the challenges we had the United States we had with, you know, people in the Middle East, and things like that—Saddam Hussein and Gaddafi and 9/11. 
All these things—that's images that were burned in my brain. And I realized, in the absence of real interaction with people from the Middle East, I allowed myself of all people to become a racist. I was judging people without actually knowing that. And I had to accept that fact, because if I was going to do my job, I had to be able to overcome those biases and be able to catch them, or they would certainly seep into trust, our interactions and the impact of our work. 
And so, I paid extra special attention to those thoughts that popped in my head that said, "No, maybe he's not being honest," or, "Maybe he's not being trustworthy." And as a result of being able to admit it and overcome those biases, we accomplished some incredible things together that would not have happened if I did not embrace my bias. 
So, that's my recommendation: Don't deny it. Pay attention to how you think when you're interacting with people different from yourself and you'll start to identify your own patterns of prejudice. And then you can choose the actions you take. You don't have to let those unconscious thoughts control your behavior.
Gwen: I hadn't even thought about it for 15 years until just now, that I happened to have worked in Tunisia briefly and just walked around with some other Americans and picked a flat that we would rent together. 
It happened to be actually Arafat's minister of information from the Palestinian Liberation Organization, and the thinking that my family in Hawaii and other families in the U.S. are so scared of who we were renting from, but I learned so much from the family, right?
One was a Tunisian diplomat's daughter, and her husband was Palestinian, and just all of the biases that I had, as well—just knowing that Hawaii is a melting pot—was overcome by having conversations around the dinner table. It was about, "Hey, Gwen, if you're thinking about this, you know, read the Quran, it's really not true what you're hearing in Western media. And I read it and I'm like, "Oh, my God, everything that I heard is false." 
So, I go back to.... fast-forward 20 years to today; we are so informed through a screen. We don't talk to each other anymore—having real conversations. I have a 5-year-old and a 7-year-old, and very intentionally have them have conversations with me and my wife, who's in the Immigration Rights Movement as well. And that factor, and seen in schools and peers, you know, 30, 40, 50 years old, 60 years old—we are so screened out. And you know, there's also talk about catalyzing depression with kids under 30—people, that's huge. 
You know, that's a lifetime of shifting. So, my piece around the bias side to add to that is we've got to slow down on the screen time have conversations with real people, real time, because otherwise what I'm finding about humanity; we're becoming less humane over the decades. I happen to be 50—I know I dye my hair a lot, so I might not look 50.
I'm just finding that even five years ago, I might have screened through social media more. Now it just stresses me out. I mean, it might be because I'm more open about my anxiety or my ADD. But it's just...it is so stressful. 
The more you read into secondhand news, or secondhand communication, people are just attacking each other. We have to create more space around us to have vulnerable conversations. And then the one "aha" moment that I had, you know, again, 10 years ago; I was speaking at an LGBT API—a lot of acronyms—political panel, and I was probably being a little bit too critical, but people who were not like me and not realizing this—and it was a friend who was an elected official—she stood up and said, "You know, unless we stop and create spaces [in which] we learn and be more vulnerable, and be okay for saying the wrong thing, we're not going to learn what's right or wrong, or, you know, PC or not PC, for the LGBT or Asian communities—which is so true, right?
[Why Data-Driven Assessments Are the Key to DEI Strategies]
So, I have learned to be less judgmental, less business-maker decision. I can't be so quick to judge because we all come from the same place, right? And when we all have roots—well, families or experiences growing up really affect who we are today, whether it be self-esteem or other things that we might have seen.
I really would emphasize—I mean massive cultural change. We have to be more human again, I think in the next 50 years.
Melissa: I mean, let's be honest; a lot of our workplaces give us that one space when we're around people who are very different from us, because if we're honest, our social circles are probably more segregated than they are integrated.
So y'all, we're out of practice, because we've been isolated, shut up with people who look and think a lot like us, right? And then we get really convicted in our thoughts. And we get out of practice, meeting and mingling and getting know people who are different from us. And so now that the world is open, I think this needs to be a priority.
We've got to, as Brené Brown would say, "It's hard to hate close up"; we have to lean in and really get to know people who are very different from us, you know.
Annette: And I feel like...one of the key things is if we could develop that sense of curiosity again. When we were kids and we're out in the backyard, and we're looking for bugs, and, you know, as we grow up, we get stressed and we look for the right answer really quick, and just get things done. We lose that sense of wonder and wonderment and... kind of exploration.
And that's the key to breaking down these barriers you're talking about, right? Help me understand more about you and what you're going through. And if we don't have that sense of curiosity, then we're just going to live with these biases that are already innate.
Courtney: I'm curious what you think about the phrase white privilege. And the idea that white people should feel guilty for being privileged or because they're white? What do you think about that concept? Is there an opportunity for people to check their privilege? Is it being taken too far? Are people too guilty? What's happening there?
That's a hot topic. ... By show of hands, how many of you would want to maybe ask that question or have thought about it, but just haven't? Because it's a hard question to ask, and that's what I appreciate about this conversation is that I feel like I can ask those questions. And they asked me to ask the hard questions. Like, what is the deal? What's the deal, from your perspective?
Melissa: So, I am a big believer in you look at things at both sides, all right? And I have a unique vantage point because my mother's white, my father's black, all right? So, I've been studying this for like 45 years, okay? 
So, what I have now accepted, is that historically, if we go back in time, there were laws in place that prevented African Americans from earning a fair wage and pursuing prosperity. There were laws in place to hold that back. And so, for white Americans, however, there were no restrictions of doing that.
So, they had an opportunity, the advantage of building generational wealth, not just with money, but with connections and power, that Black people did not have, because the laws were in place to prevent them from doing that. It wasn't until the '60s—cancel culture has been around for a long time, right?
But that's some of the ways that real influence and change happens when those laws were put in place to keep that from happening. Those laws changed, but that didn't instantly change people's mentalities. So, they're still some of those unspoken barriers in our systems and things that Black people still bump up against that white Americans did not have to face.
And so, I reframed white privilege, because it instantly caused people to get defensive, like, "I've worked hard for everything that I have." I talked to my uncles and aunts—that's what they say. It's an advantage in building generational wealth and power, that's what it is in the United States.
And because the foundation of our country was built on those laws and slavery, it is a reality that we have to deal with. And Isabel Wilkerson in her book has talked about how we all live in this house that we inherited. It's just a way that the house was built. And we can either choose to redecorate and fix the foundation or deny that there's huge cracks in the ceiling and the walls.
Gwen: Yeah, I don't think they should—on the guilt part—I don't think they should feel guilty. I do a lot of work with sustainability officers, or a lot of white men, and almost every conversation—I'm going to do a panel on human trafficking after this—there's usually at least one white man in the room who feels so guilty about it. I just tell them don't feel guilty.
I really appreciate the awareness piece, right? We all have relative privilege, you know—not to discount the systemic racism that's happened in our country and the fact that we're now just talking about it in a more open way—but we all have privilege. I have benefited from the fact that I was—and I know this is probably going to sound funny—but as a more fair-skinned, Asian-Pacific Islander LGBT, right, you can hide. I could hide my gayness. 
People honestly thought I was way smarter than I was in math. No joke—they would always put me in a math role.... I'm like, "I can't use a spreadsheet, so...but I think that we all have relative privilege. My dad always says, "There's always someone who is worse off than I am." He grew up literally picking up canned food at the dump with his dad, because they were super poor. I have to start crying at least once...
I just think it's all relative. But also, in terms of shaming and blaming. Practitioners, like me and others, for years have tried to use guilt to get people to open their minds and change their behavior. That didn't work, because people were like, "Hmm, I get defensive if you make me feel guilty." 
We have to get out of the practice of making someone feel guilt to drive behavior and really recognize the brain is to blame. Our long-term systems are to blame. And once we embrace that, I think we can really start to make some change. But you can't shame or blame people to change in their beliefs. It does not work. 
Courtney: Yep. Good, tough questions. Go for it. It's scary asking those questions. I know that there's a risk. You know, I think one of the most disappointing parts in our culture today is that people are afraid to ask questions, because of cancel culture. And even as I was scripting these questions, and we had these conversations beforehand, when you said, "I want you to ask tough questions," and, "We're here to help open that conversation up." 
You know, sitting on my own, I had to really consider what might happen if I asked a question the wrong way. What would happen to the career that I've built and the brands that I'm still building, and I'm still new—is it worth it to ask these kinds of questions, and to me I think it is. I think it's worth it. Because these are conversations that have to happen. And we have to be able to ask them in a way that's respectful and curious, getting back to that sense of wonder, but I do want to talk about cancel culture for a second here.
I mean, what are your thoughts on where the lines are drawn? And so, let's take the worst of the worst. Let's take somebody like Harvey Weinstein. Obviously, he got canceled. He did terrible things in his career. He's at one end of the spectrum, but then there are other people that maybe were called out for things because they said something the wrong way, and they've apologized time and time again. And still they've lost business. They've lost partnerships. I mean, how do we approach that? How do we manage cancel culture? What are your thoughts on that?
Melissa: I mean, it's part of the reality of our world, whether you agree with it or not. There are some people that see cancel culture in a couple different ways. One, holding people and organizations accountable. It's one perspective. The other is punishing people, right? And then somewhere else in between. 
And so, there is, based on what we learned in the '60s—it took a woman to refuse giving up her seat that sparked the whole Civil Rights Movement. There have been people trying to get this stuff done for years, but it took hitting the companies in their pocket to really impact change. So, I get that side of it. 
Today, though, we benefit—or maybe it's a curse from social media—it's so easy to share misinformation, and rally like a gazillion people, and use the collective power of those people to shame or punish someone if they have said or done something wrong. I don't think that's going to go away.
And honestly, I don't know that we can mitigate that other than being really mindful about your questions, asking for other perspectives: "Do you think this will be well received to help mitigate that?" What we can do as an industry, however, is we can have a stance and a strategy on what we are doing to demonstrate our commitment to diversity, equity and inclusion. 
So, when those questions come in, we already have a good answer. We don't get caught off guard. I have so many clients now that are like, "We're getting requests through RFPs for evidence of our commitment to D&I [diversity and inclusion]. 
What do we do? We need help crafting our story. So, I think those are some strategic, proactive things we need to think about. There are people expecting us to be able to prove our commitment. And we need to be able to have an answer to that.
Annette: When you asked that question, I went to a more personal place where I think people, at least in these last two years/18 months, have felt the need to be black or white, this or that—very polarized, right? We'll go through the political process and how you feel about masks and everything else, right? 
And I challenge myself all the time, because I do that. I'm going to make a decision and move on, because my brain is comfortable with that, and we don't like to live in the gray, and the gray is where we really meet understanding and curiosity. And I just would say, let's encourage ourselves, challenge ourselves. 
If we're too quick to make a decision or an assessment or cancel something, is maybe...challenge yourself: Do I know the whole story? Do I really need to make that decision so quickly? About that person? About that product? Could there be something I don't understand? Is there gray that I need to investigate a little bit? And I just think that's really important for us as people, for us as consumers, everything else.
Gwen: Courtney, I think this is whole piece around formal education, right? I mean, we educated our kids in the 1970s and '80s to be more engaging, supportive people, or different.... LGBTQ....humanities, etc., civilizations, other histories. But we don't educate each other about having a different point of view. 
And I see my kids today, they go to a social justice Montessori School—thank goodness they're graduating...we're going to save money in about six months—but they are constantly asking me, "Is such and such a bad person because they ran against someone else that mommy might have supported?" And I say, "No, just because someone lost an election, or just because they have a different point of view, doesn't mean that they're necessarily wrong or right, right? It's just they just have a different point of view. And don't not have friends or family or generally people who are extremely different from us...my brother is extremely conservative, and he posts things—I hope this doesn't get to Hawaii—but he posts things...and we want to have a conversation about people who have extremely different views. 
It takes a lot of effort and emotions and a lot of stress, but I think through our education system, or through professional development, even like in our workplace, I want to encourage others to have differentiating opinions and dialogue. Because that is so important to not be judgmental, to be open to feedback, whether it be critical feedback or critical points of view—not be offended if someone has different values. 
There's a lot of people who don't agree with same-gender households, etc., in this world, but it's not that they're bad. And I think we need to be open to that.
Melissa: In the workplace, also, it's important that we recognize it's those differences of opinion that create the most innovative ideas and the best solutions, like diverse teams are way more higher performing than non-diverse teams. But we need to anticipate the more inclusive and diverse you are, the more likely you are to experience conflict and difference of opinion. 
So, we've got to get really comfortable with leaning into conflict, so it doesn't turn it into something that's unhealthy. But it's actually part of the innovation decision-making process, and that we don't do well. What happens in a meeting when two people disagree? We go, "Oh, you guys take this offline," right? Oh, and then they go to all the back channels and start gossiping... It just erupts; erodes into something that's really unhealthy. 
We've got to get comfortable listening and talking to people that don't agree with us.
Annette: That's so important. I think that there's this push/pull of like, well, we'll have a consensus-driven decision. And consensus-driven decisions really are groupthink, you know, with a nice sheen of teamwork on it.
I love—let's mix it up. Let's not have a decision so quickly made that we didn't have at least one contrary opinion, even if somebody has to fake it, you know, just to create a culture where debate is healthy on all levels.
Courtney: Yeah. And going back to a point that you made earlier, that it comes down to leadership making that acceptable, because people are afraid to have a different opinion, especially if they think that they're going to be shunned, gossiped about, taken offline, whatever that means.
But we're getting to a place where it's looked at as a bad thing to disagree, or to create healthy conflict in a room instead of just having a conversation, which doesn't help us innovate. It doesn't help us think differently. 
I think there is such an opportunity for not just leadership, but anybody in that room to ask questions: "Why do you feel that way?" Or "What value do you see behind that strategy or whatever, to open up a greater dialogue?" And just because you don't agree with somebody doesn't make them a bad person, right? And maybe you disagree with that one thing, but that doesn't mean that you don't have other things in common. right?
I think you've all made really, really great points. And I do want to ask a couple final questions based on everything that we've talked about today. What's one piece of advice that you want to leave with our audience here today, and also our virtual audience?
Annette: That's a tough one. So, I'll touch on something that we talked about earlier when we went through these questions, because I do think it's important for women, especially. So, it's probably not my most prophetic piece of advice, but I do think it's important for women to play politics. And I want to explain what that means.
I think that politics in the workplace get a really bad rap, and politics in general, right, they feel dirty: "I'm not going to play politics. I'm just going to be the hardest working person in the room." And women do that. And the hard work is not enough to get you where you want to be. If you are someone that's looking to ramp up your career, you have to—we all have to—pair that with strategy. 
And that's especially in our world of meeting event professionals. That hard work-only mantra will kill you. I mean, I'll go back to all these things we've talked about. And meanwhile, you'll never reach that threshold of advancement that you want. And you'll be wondering, "What the heck, I've pulled off a perfect 'XYZ' program time and time again, why have I not gotten that director role, that vice president role." 
And so, for me, a lot of it is making sure that we're scanning the environment for people and influencers that are going to get us where we need to go. And it feels a little opportunistic, but men are doing it all the time. And good for that. You know, they figured this out better than women, because we think it's unseemly. 
But look across the room, see? Look across the industry, who is a woman, or man, that you respect, that can open doors for you that can get you meeting other people that are important. That can help you learn something. And if politics is still something that you don't like to play, then call it influence. 
Take the art of influence and just be a better player at that. So that's a piece of advice I'd leave you with. Absolutely.
Melissa: So, I'm going to piggyback on that as well. Because, yes, yes, to advance, you need to have sponsors. This is critical for women, that oftentimes we have one mentor, and it was the first female boss we ever had. And that significantly limits our exposure and power and influence. 
And so, I couldn't agree with you more; you need to have like five sponsors. You need someone that can help you find a job, can make recommendations for you that can protect you, that can speak up on your behalf when you're not in the room. 
You don't need one sponsor, you need a whole portfolio of sponsors. And don't forget, don't sleep on the admin assistant, because they have a whole lot of power and influence. So, get to know a whole network and, also, in addition to sponsors, establish a personal board of directors for yourself, people that you can talk to say, "I need some straight-up feedback, was I wrong?" I'm going to ask this question that might blow up on the podcast: You need people that you can talk to you that just really can give you some straight-up feedback and vice versa. 
So, create a great network of folks around you.
Gwen: Guess mine is completely different. It's about, when I was on the board of an advocacy group, they put me through a women and leadership training. And we figured out— actually, I was able to figure out—what my life purpose was, and how am I working on advocacy, my career, everything else, my family structure, or this lack of... my personal relationships—all fit into my life purpose. 
And I encourage you all to think through that, because that was 12 years ago. I've been through career coaching, different things. Everything continues to put me back into this life purpose that I figured, and for me it's about reducing, to flatten the world, for lack of a better term—another book—to remove the marginalization and the powerless, or voicelessness, and have essentially followed and driven my career that way. 
When I wasn't able to do this, I was a consultant in market research, and I found that I was building blocks around that purpose before I really knew it. So, I was also very depressed for about a year. I didn't know what direction I wanted to head. Eventually that life purpose—two, three steps down the road—will get you there. I encourage us all to look at long-termism rather than what makes us happy here and today.
Courtney: Love it. Really, you should clap for yourself. I want to ask you one rapid-fire final question and we'll go backwards. So, Gwen, I'll start with you for this one. Who was a strong woman leader in your life that you follow? And why?
Gwen: So, this happens to be my longtime mentor or boss of 15 years at Caesars. A lot of you know her Jan Jones Blackhurst, former mayor of Las Vegas. We're still in touch a lot today. She's left the company, on our board.
Really someone who's taught me to be who I am; authentic and whole in the workplace—actually consulted me on my current wife when we were partners at that time—but just somebody who really wants you to be happy for yourself first, and then your career should follow regardless of how she feels about the job.
Melissa: I can't give you one name. I can say I gobble up everything that Brené Brown offers, because I think she's just spot-on—wholehearted leadership is exactly what we need right now. 
[Related podcast: When You Get a Seat at the Table, Pull Up Another Chair]
But in terms of a woman that has the most influence on my life is my mother. She's not big and powerful. She's retired, she's sweet and she's little, but I'm telling you, her advice now and her wisdom that she gives me shapes my philosophy, my purpose, the things that I work on. And I know that she's got my best interests at heart. So, kudos to mom. Thanks. Love you.
Annette: A couple that come to mind, but I'm honoring Terri Breining tonight at the President's Dinner. So, I won't talk about Terri, but she is definitely one of mine. And so, the woman I'd like to honor is Christina Shimasaki, or Shimo. She's a destination management—our destination marketing exec. She was my boss at San Diego CVB back in the 2000s. And what I really admire about Shimo, she was wicked smart. Wicked smart.
But just had so much sense of self. Never felt like she had to be inauthentic to play in a very male-dominated field. And I always remember one piece of advice, because I move really fast—and too fast, often. And she'd say, "Never be so efficient at the cost of being kind." So, don't emphasize efficiency if you're going to lose kindness, and kind of that people touch, and I just always need to remember that. And I'm glad she's part of my life.
She's one of those sponsors that Melissa talked about. I can run crazy stuff by her, job decisions, and she always picks up the phone. So, I'm grateful for Shimo.
Courtney: And God bless people who answer their phone.
Well, that is all the time that we have today. And I just want to say thank you so much to Annette, to Melissa and to Gwen, for sharing all of your wisdom and all of your insight, really, truly honestly and vulnerably with us today, and audience, both here and anywhere really around the world.
I want to thank you all for tuning in to these really important conversations that we'll continue to have. So, make sure that you all share what you thought of today's conversation with me on social media by tagging @CourtneyonStage and of course @MeetingsToday and using the hashtag #DaretoInterrupt. 
So, stay bold, be yourself, and always, always dare to interrupt, my friends. Thank you so much.
[End Transcript]
Like what you hear? Listen to all episodes of Dare to Interrupt.
*     *     *
About our host Courtney Stanley: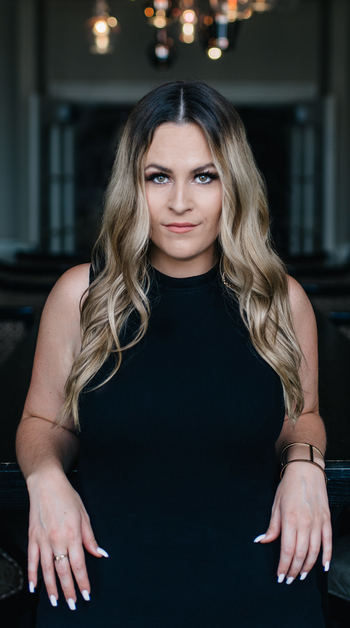 Courtney is a keynote speaker, writer, podcaster and career success coach with a background in experience design, community engagement and leadership development.
Courtney is the host of Meetings Today's "Dare to Interrupt," a podcast that provides a platform for the event, hospitality and tourism industry's most influential and successful women to share their stories of adversity and success, unfiltered.
Courtney believes that transforming past experiences into impactful conversations through raw, authentic storytelling challenges the status quo, connects people from all walks of life and results in great change for the world.
Courtney is the youngest member to have ever been elected to Meeting Professionals International's (MPI) International Board of Directors
She is the recipient of Smart Meetings' Entrepreneur Award, MeetingsNet's Changemaker Award, the Association for Women in Events (AWE) Disruptor Award, the MPI Chairman's Award and MPI RISE Award.
Named Collaborate and Connect Magazine's 40 under 40 and a Meetings Today Trendsetter.
Recognized as one of the event industry's most impactful change-makers.
Serves on the Events Industry Sexual Harassment Task Force, AWE's Board of Directors, MPI's Women's Advisory Board, is a Meetings Mean Business Ambassador and is the co-founder of the award-winning movement, #MeetingsToo.
How to connect with Courtney:
Instagram: @courtneyonstage
Twitter: @courtneyonstage
Facebook: @courtneyonstage