Speaking and Bling: See What Meetings Today Is Up to at IMEX America!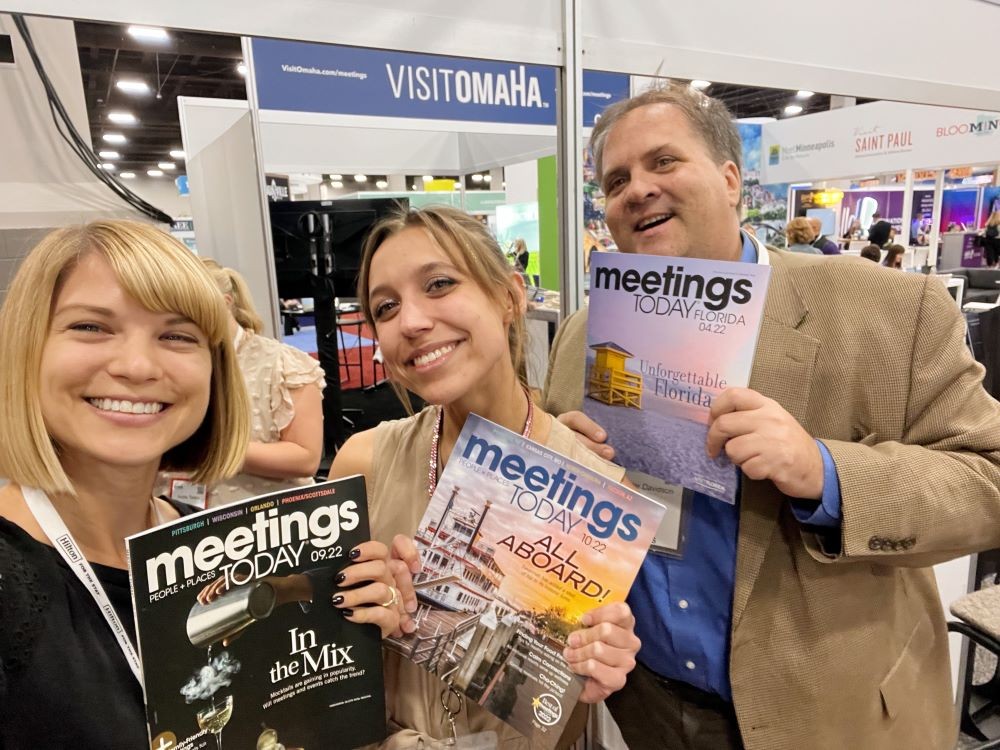 Meetings Today editors at booth at 2022 IMEX America
IMEX America 2023 is shaping up to be a barnburner, with pre-event registration numbers pointing to a record number of buyers—well over 4,000, according to IMEX Group—and 60,000 appointments already booked. 
It's enough to make one want a quiet space to decompress from all of the activity on the exhibit floor. IMEX Group has that covered, too, in the form of a Quiet Space Lounge and a Resilience Room staffed by EventWell, designed by Storycraft Lab and provided by Google Xi in partnership with The Neu Project and Marriott International. 
Meetings Today is entering the fray at full speed this year, with booth giveaways and partnerships crafted especially for this year's edition of North America's largest meetings and events exhibition. 
Following are details on what we're up to at IMEX America 2023. Stop by booth #D2861 to get your bearings and walk away with a number of free giveaways custom-made for the show!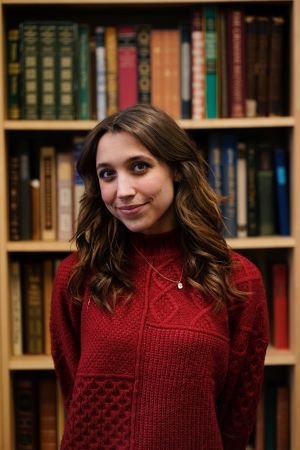 Taylor Smith Is Talking Up a Storm! 
Our resident Gen Zer, Content Developer, Destinations & Features Taylor Smith, is taking the stage once again! Don't miss out on her sessions at this year's IMEX America, where she will be discussing tips and tricks for first-time attendees (Read her latest column for "The Z" now!) and exploring the cross-generational values that, despite our differences, remind us how alike we truly are. And, if you see Taylor on the tradeshow floor, make sure to say hello for your "The Z" sticker!  
Where to see Taylor: 
Tuesday, October 17, 11-11:20 a.m.: First-timers at IMEX America–tips and tricks (Perspectives Theater, Inspiration Hub, F300). If you are new to the show or haven't been for a few years, this 20-minute session will be a great time to make your first friend, learn how to navigate the show floor, maximize the IMEX app and find the best experiences and, of course, coffee. 
Wednesday, October 18, 3-4:30 p.m.: IMEX Future Leaders Forum: Roundtables session: Meet the experts (South Pacific GH - Mandalay Bay, Las Vegas). Get first-hand industry insights, hear personal stories, discover potential career opportunities and network with some of the best in the business! Ask all your burning questions to a select group of industry experts. What are their job responsibilities? How did they progress in their career? Ask them anything! 
Thursday, October 19, 12:30-1:45 p.m.: Gen Z: We need you! (Curious Minds Theater, Inspiration Hub, F300). The meetings industry is rapidly shifting, with a greater emphasis on embedded technology and a desire for community. Look at the perceptions, expectations and options of recruiting, retaining and inspiring our current and future workforce where the world is our office and our playground, our meeting space and event space. 
[Related: SITE Young Leaders Conference Focuses on the Future] 
Dare to Interrupt to Record Podcast at She Means Business
Courtney Stanley, founder and host of Meetings Today's Dare to Interrupt podcast, will be taping an episode during the She Means Business event during Smart Monday. 
The podcast will feature Stanley moderating a panel discussion with Catherine Kevern, director of Electric Cat Productions; Chandra Allison, senior vice president of strategy and growth for Oak View Group; and Cherrell Woodley, artist management director for Dope Labs. 
[Related: Engagement Is the Watchword for IMEX America She Means Business and SITE NITE]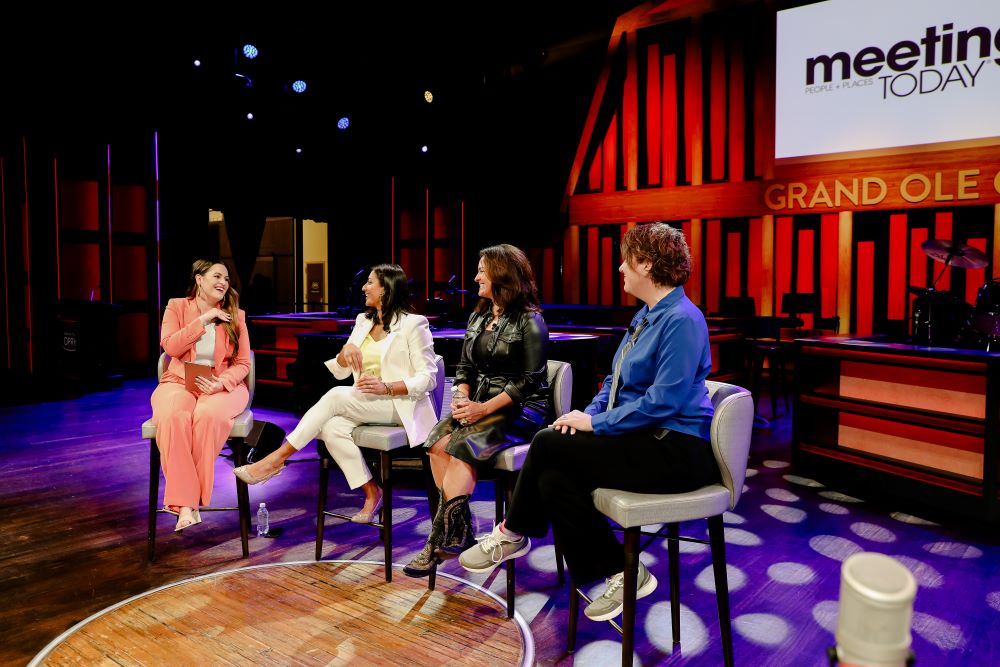 Get a Free T-Shirt From Our Partner, Brandit! 
Offering a comprehensive suite of marketing solutions for branding and logistic needs, The Brandit Agency has proudly served as Meeting's Today's preferred promotional products partner since 2021. (Maybe you've seen them at our Meetings Today LIVE! hosted buyer events?)  
Meetings Today is partnering with The Brandit Agency, which has proudly served as Meeting's Today's preferred promotional products partner since 2021, to host a live and interactive heat press experience. Visit our booth (#D2861) to get your hands on a T-shirt, tote bag or koozie with your choice of imprint. Brandit came up with some IMEX- and Vegas-specific designs that are sure to turn heads. 
We'll be offering an array of fun designs to make your IMEX experience memorable by giving away 1,000 T-shirts on a first-come-first-serve basis, so make sure to stop by the Meetings Today booth to get your T-shirt before they're gone!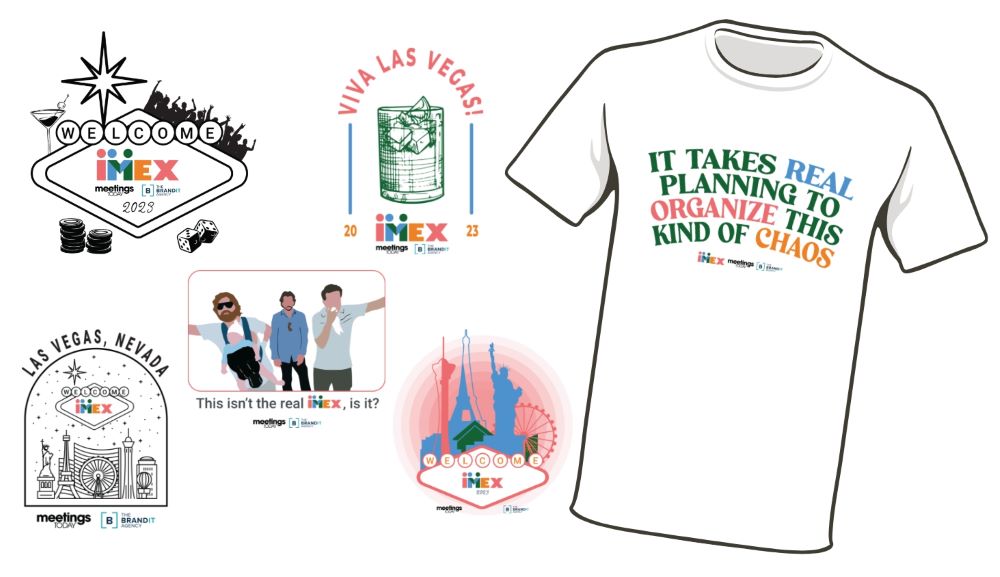 Stickers, Stickers! Get Your Stickers! 
Who doesn't like stickers? Put 'em on your laptop, apply them to your car window, take them to one of the many tattoo parlors in Las Vegas to make your association with our brand a little, shall we say, more permanent—you've got a lot of options! 
From our Dare to Interrupt podcast, founded by meetings and events industry women's empowerment leader Courtney Stanley, to Taylor Smith's "The Z" column detailing Generation Z's increasing influence in the industry, these colorful stickers are surefire attention-grabbers wherever you want to apply them.
Stop by our booth to pick up a few and share with your meeting and event professional colleagues..
Vegas HipMap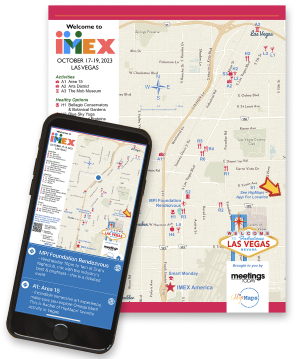 Wondering where to be when and what to do in Las Vegas? We partnered with Meetings Today 2023 Trendsetter Rachel LeRoy, founder of HipMaps, to bring you an IMEX HipMap so you can get the inside scoop on locals' recommendations of amazing places to eat, drink and be merry!  
Download HipMaps' innovative app (IMEX America 2023 - HipMaps) and enter access code IMEX23 to see your location on our map, read the juicy scoop on each place, link to websites and get directions.  
Say goodbye to overwhelm and hello to a custom map with a modern twist. And be sure to come by the Meetings Today booth (#D2861) on Wednesday to meet Rachel! 
[Related: The 2023 Meetings Trendsetters Blazing Trails in the Events Industry] 
Attendee Resources for IMEX America 2023 
Besides all of the action on the exhibition floor, Meetings Today has produced a number of stories and other content in the lead-up to IMEX America 2023. Access the items below to get your bearings in advance of diving into the show!