3 Indiana Cities Offering Imaginative Venues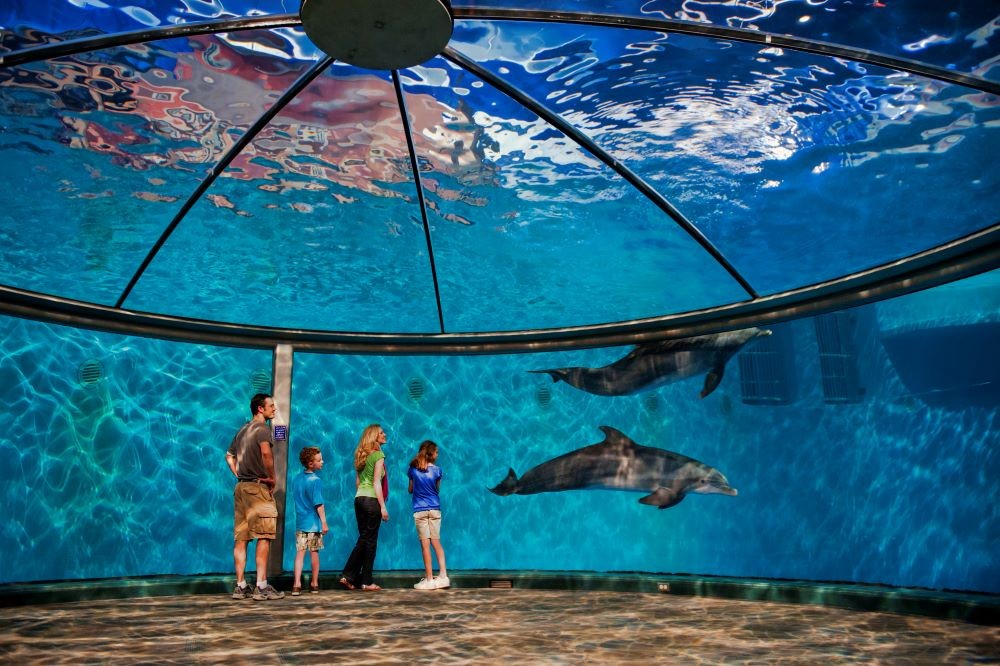 The Hoosier State has long been known for basketball, the Indy 500—"the greatest spectacle in racing"—and having a plethora of corn, but Indiana's offerings stretch far beyond its fields and racetracks.
From boasting the world's largest children's museum to converting original Pullman train cars into hotel rooms, imaginative sites in Indiana can transform ordinary events into one-of-a-kind experiences, and the state's creative culture is flourishing. 
Indianapolis
The state's capital offers an assortment of imaginative venues for corporate groups to book for meetings and events, including the world's largest children's museum, The Children's Museum of Indianapolis. The museum's awe-inspiring surroundings, unforgettable experiences and world-class hospitality make it an ideal space for creative gatherings.
The museum's Sunburst Atrium and Mezzanine invite guests to dine, mingle and dance in a private space, and groups can make the entire museum theirs for up to 6,000 guests. Access to galleries, theater and planetarium shows and race pedal cars is available as well, and customized experiences in galleries including Dinosphere or National Geographic Treasures of the Earth can be organized.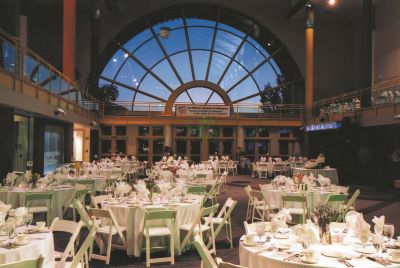 Groups can also take advantage of experiences in the museum's fanciful, life-sized kaleidoscope, find their way through a mirror maze or take a ride on the historic carousel, and entertainment underneath the museum's 45-foot blown-glass tower or grand staircase can be arranged.
[Related: Indiana's vibrant arts scene has group appeal]
Located in the heart of the Indianapolis Zoo is the Ascension St. Vincent Dolphin Gallery, where guests can experience an insider's view into the dolphin pool while mingling and networking. The space can accommodate up to 250 people seated in the evening from January through November, or up to 120 seated in the daytime or December evenings. 
The zoo's Oceans building adds dramatic ambiance to events with full access to gather among penguins, sea lions, cownose rays and seahorses, and guests can interact with rays and dog sharks in the zoo's touch pool until 9 p.m.
Listed in the National Register of Historic Places is The Crowne Plaza Indianapolis Downtown Union Station, a hotel housed within America's first union station and red-brick and granite buildings dating back to 1888. The hotel offers guests the opportunity to stay in authentic 1920s Pullman train cars converted into double-bed guest rooms, with cars still on their original train tracks, said Nate Swick, senior communications manager at Visit Indy.
The Crowne Plaza Indianapolis Downtown Hotel's Grand Hall Ballroom features Romanesque Revival-style architecture, distinctive arches, columns, terrazzo floors and a glass-barrel ceiling, and guests can peek out 20-foot leaded, stained-glass wagon wheel windows. The space can accommodate up to 700 people for a seated dinner or reception and welcomes guests to enjoy Historic Walnut Grand Bar.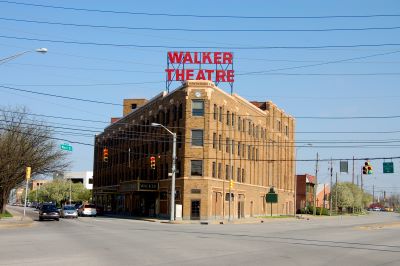 The Madam Walker Legacy Center, housed in The Walker building and former manufacturing plant of Madam CJ Walker Hair Care and Beauty Products, is the last surviving iconic building on Indiana Avenue, dating back to 1927. Walker was the first self-made female millionaire, Swick said, and now has a Netflix show and Barbie doll in her likeness.
Also listed on the register of National Historic Landmarks, the Madam Walker Legacy Center features event spaces including Walker Theater, with 849 fixed seats in a theatre style. The Pointe, on the second floor, can seat 16 for a conference-style gathering, while the building's Grand Casino Ballroom can host up to 270 guests theater-style or 138 for a standing reception. 
"Indy is a city of creators, and we love showcasing this city's creative talent to locals and visitors alike," Swick said. "As the tourism arm for the city of Indianapolis, it's our job to know the ins and outs of the city—to find Indy's stories and tell them to both business and leisure visitors. Our team is always striving to think outside the box to exceed the needs of our incoming groups while providing the best recommendations for their time in the city."
Bloomington
Fifty miles southwest of Indianapolis sits Bloomington, home of one of the oldest and largest state universities in America, Indiana University, where William Oliver worked as a law professor in the 1960s. Simultaneously, he was turning his hobby into what has since become Oliver Winery and Vineyards. Today, the winery stands in Bloomington as the oldest and largest in the state, according to Shaun Ballard, convention sales manager at Visit Bloomington.
"We're lucky enough to have it in Bloomington," Ballard said. "It's really beautiful. I call it a campus, essentially. There are tasting rooms. Everything is huge. It's like any other winery where you can get samples and glasses, but it's on several acres with a pond and walking trails. Even if there are hundreds of people there, you don't feel like it's that crowded because it's kind of on its own. It's a really nice escape."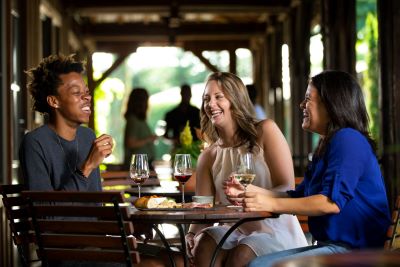 Planners can host an indoor or outdoor event in Oliver Winery's newly renovated timber-frame tasting room under the three-season pergola and patio lights, where groups of up to 75 guests can gather for seated meals or standing receptions. Smaller groups of 25 or fewer can enjoy the winery's original tasting room with an adjacent patio and fireplace. 
Meeting and event guests at Oliver Winery get private access to Indiana's largest winery and award-winning wine packages, and package add-ons include a mimosa bar and charcuterie board. 
[Related: Best Places for Meeting Attendees to Eat and Drink in Indiana]
On the B-Line Trail in the heart of Bloomington's entertainment and art district is The WonderLab Museum of Science, Health and Technology—a two-story facility and garden providing opportunities to "experience the wonder and excitement of science" through interactive exhibits and programs. 
"It's super interactive and very hands-on," Ballard said. "There are tons of exhibits for people to interact with, and [the museum] works with folks to rent it out after hours. The museum closes at 5 p.m. usually every day, and if you want an event from 6-8 p.m., it's a really cool place for teambuilding."
For meetings and events at The WonderLab Museum of Science, Health and Technology, attendees can access two floors of multi-sensory exhibits with an integrated whole-museum sound system, as well as a digital projection system and screen. Planners can opt to include science demos or special hands-on activities in their meeting agendas.
Events at WonderLab are hosted in the museum's accessible facility and garden, and the museum supports eco-friendly events and initiatives, including recycling receptacles and compostable plates and utensils.
Southern Indiana is also known for its limestone, Ballard said, and every year, Bloomington hosts a limestone heritage week with tours of some of the limestone mills in and around the area. 
"It's a really deep-rooted part of our history," Ballard added. "I think, at one point in the early 1900s, the vast majority of U.S. limestone production was in and around Bloomington. We actually have an event venue called the Woolery Mill. It's a conference center, really nicely renovated inside an old limestone mill."
Originally built by Henry Woolery in 1930, the old limestone mill has been transformed into "an industrial chic venue" featuring soaring ceilings, exposed beams and large windows. The mill shut down in 1996 and has since been converted into One World at Woolery Mill, a full-service event venue.
The 76,000-square-foot limestone mill now houses a 24,000-square-foot banquet hall, as well as a large industrial kitchen and expansive patio, and the mill can accommodate events of up to 520 guests. One World at Woolery Mill also features in-house catering and bar service, a disco ball and ceiling installations, and 233 parking spaces are available on property.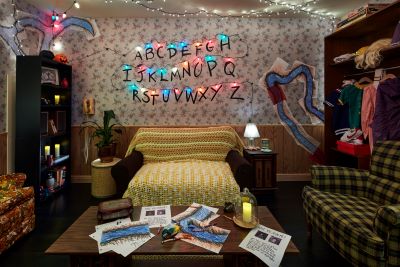 For an exciting hotel option, Graduate Bloomington offers the ideal "Hoosier hangout right on Kirkwood Avenue" near Indiana University's campus. The hotel's lobby welcomes guests with a nod to Indiana basketball, lit by a cluster of dangling game-winning globes, artistic basketball hoop installations and commissioned local artwork.
"Graduate Hotels reflect the community where they're located," Ballard said. "For our Graduate, it's very Bloomington-focused. There are lampshades that are actually basketball hoops, and when you go into their coffee area, they have a bunch of shelves everywhere with a ton of cookie jars, which sounds random, but there's a person in Bloomington that has the Guinness record for most cookie jars collected, and she gave some of her collection to the Graduate Hotel."
[Related: Graduate Bloomington Opens Near Indiana University]
Graduate Bloomington also transformed one of its suites into The Stranger Things Suite, which features two beds, two bathrooms and decor reflective of the hit Netflix show's famous Upside Down   realm, including Christmas lights wrapped around the alphabet written on Joyce Byers' living room wall in the show.
Graduate Bloomington offers a variety of event venues, including the 1,213-square-foot Hoagy Carmichael room, which can seat groups of up to 64 guests on the hotel's third level, and the 630-square-foot Will Shortz room, the hotel's largest breakout room with a capacity of 90 guests.
Fort Wayne
Known for its network of parks and boulevards connecting three rivers and various neighborhoods of the city, Fort Wayne is easy to navigate and offers event attendees opportunities to get outdoors and explore areas listed on the National Register of Historic Places.
Located on the riverfront, Promenade Park, home to Fort Wayne Outfitters & Bike Depot, allows groups to rent kayaks, paddle boards, canoes or bikes to head out on an urban excursion just blocks away from Fort Wayne's downtown convention package. The Park Foundation Pavilion, an award-winning venue with a covered patio, can host 150 seated or 338 standing and provides views of the Historic Wells Street Bridge, St. Marys River and the Parkview Tree Canopy Trail.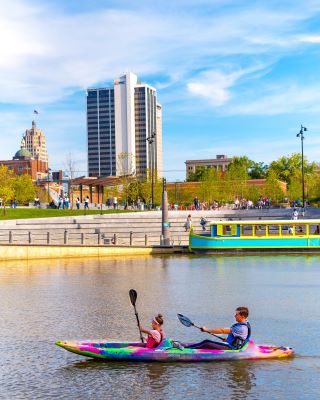 Groups can also gather on the Wells Street Bridge itself. The bridge, built in 1884, can seat 300 or host up to 400 for a standing reception within 4,160 square feet of space sitting above St. Marys River and can be outfitted with a weighted tent, tables, chairs and lighting along the bridge with color-changing options. 
[Related: New Developments in Fort Wayne, Indiana, That Meeting Planners Should Care About]
"Groups can also take a 90-minute tour aboard Sweet Breeze, Fort Wayne's replica canal boat, to learn about the history and viability of our rivers," said Nicolle Campbell, director of sales for Visit Fort Wayne. Attendees can also take advantage of the park's close proximity to Science Central, offering more than 200 permanent, hands-on exhibits, and the Old Fort, featuring demonstrations and re-enactments highlighting the fort's significance to the State of Indiana during the 17th and 18th centuries. 
Sweetwater Sound in Fort Wayne is the nation's largest music retailer, Campbell said. Their sprawling estate on the west side of Fort Wayne offers impressive group tours of the facility. Sweetwater offers private meeting rooms, including an onsite theater and an outdoor pavilion available to groups. Visitors can explore the retail store on their own to view, play and learn about musical instruments, and even stop for a bite to eat at their onsite cafeteria.
In Downtown Fort Wayne, Parkview Field, home to the Fort Wayne TinCaps, offers more than 11,000 square feet of indoor meeting space, as well as outdoor options. The 5,000-square-foot Suite Level Lounge features an upscale bar and views of the Downtown Fort Wayne skyline from behind home plate for groups of up to 250 people. Smaller groups of up to 15 can take advantage of the park's batting cages for unique teambuilding exercises, and past events have included yoga on Parkview Field and ceremonies at home plate. 
[Related: 4 Indiana Sports Venues That Add Team Spirit to Meetings]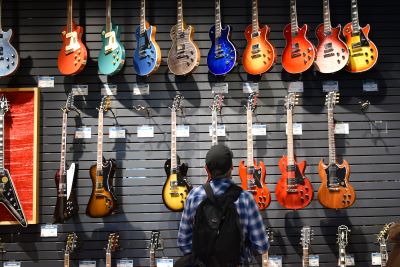 Teambuilding experiences in Fort Wayne are abundant. For a more personal experience, Campbell said, groups can dig into their family history at the Genealogy Center in the Allen County Public Library, housing the country's largest physical collection of genealogical artifacts. Professional genealogists are on staff and a free resource to help visitors begin or continue their family history journey.
The locally owned Hoppy Gnome and Gnometown Brewing offers groups the opportunity to brew their own beer. They can even design their own label to keep the bottles as a memento from their trip. 
Groups can also work with the Fort Wayne Public Art Trail for a guided experience to public murals and sculptures throughout the city and win prizes for checking in throughout the tour. Local artist Julie Wall with the HEDGE Creative House offers interactive classes for groups to explore and educate their creative side. Groups can try linoleum printing, letterpress printing, bookbinding or textile creations.
"We are proud of the growth our city has fostered in public art over the past decade," Campbell said. "More than 100 pieces of public art can be found in downtown alone. The inspiration from the artists and the stories behind the art have helped our community grow in thought, awareness and creativity, which organically spreads to attendees visiting our city."
Connect
Visit Indy
(317) 262-3000
www.visitindy.com
Visit Bloomington
(800) 800-0037
www.visitbloomington.com
Visit Fort Wayne
(260) 424-3700
www.visitfortwayne.com 
Read this next: 9 Indiana Event Venues That Add a Dash of Splash